Charles Bradlaugh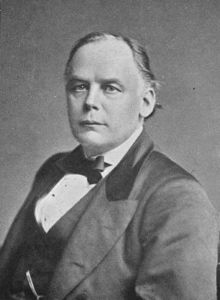 Born September 26, 1833 - Died January 30, 1891
Charles Bradlaugh was a British political activist.
Bradlaugh was born on September 26th, 1833 in Hoxton, an area in the east end of London, England. He left school at the age of 11 to work as an errand boy and later as a clerk for a coal merchant. Later Bradlaugh worked, briefly as a Sunday school teacher. He was suspended from teaching Sunday school when he questioned the fact that the Thirty-nine Articles of the Anglican church conflicted with the Bible. The vicar also accused him of atheism. After that he was kicked out of the family house. Bradlaugh had his first public lecture as an atheist sometime before the age of 17.
At the age of 17 Bradlaugh published a pamphlet titled A Few Words on the Christian Creed. He refused any financial help from fellow freethinkers of the time. Instead he enlisted in the Seventh Dragoon Guards hoping to be stationed in India so that he could make his fortune. Instead he was posted to Ireland. Three years later after receiving an inheritance from a great-aunt he was able to buy out his enlistment.
After leaving the military, Bradlaugh took a job with a solicitor. He also became a pamphlet writer, fully embracing his status as a freethinker. To protect his employer from any backlash, he published the pamphlets under the pseudonym "Iconoclast." He gradually became part of a variety of organizations and political groups including the Reform League, Land Law Reformers and Secularists.
In 1860 Bradlaugh became the editor of the secularist paper the National Reformer. In 1866 he began the National Secular Society. Annie Besant who joined Le Droit Humain (also known as co-masonry) worked closely with Bradlaugh. In 1868, the paper was prosecuted for blasphemy and sedition. Bradlaugh was acquitted of all charges. Almost a decade later, Bradlaugh and Besant reprinted a pamphlet advocating for birth control. The original author had already been successfully tried and convicted on obscenity charges. Bradlaugh and Besant were tried and convicted, although the conviction was overturned on a technicality.
In 1880, Bradlaugh was elected to Parliament for Northampton. This began an eight year battle for Bradlaugh to be allowed to be seated in Parliament. At the time, the law required all Members of Parliament to take a loyalty oath to monarchy. The oath contained promises to God that Bradlaugh felt we not appropriate for him to take as the words had no meaning for him. Instead he made a legal argument that a law passed a decade earlier called the Evidence Amendment which allowed people giving testimony to affirm, rather than using the more common religious pledge. Bradlaugh claimed that the law should apply to him when taking the Oath of Allegiance. By the end of the eight year battle, Bradlaugh had been imprisoned and forced to go up for reelection multiple times, each time winning his and not being allowed to be Seated as a Member of Parliament. When he finally did win his fight, he helped to pass the new Oaths Act.
Bradlaugh passed away on January 30th, 1891.
Bradlaugh was equally as controversial in the Masonic fraternity. His first initiation into the a Masonic rite was in 1859 into Loge des Philadelphes, London which was part of the Order (or The Rite) of Memphis. He was later admitted into the Loge de la Persévérante Amitié which was under the Grand Orient of France. Later he joined High Cross Lodge No. 754 in Bolton, England. This caused a stir when an article in a masonic publication asked how an atheist could be a member of an English lodge. He resigned from the lodge when the Prince of Wales was nominated as as the Grand Master of the United Grand Lodge of England. He continued his affiliation with French Freemasonry.