Claude Adrien Helvétius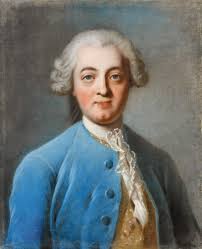 Born January 26, 1715 - Died December 26, 1771
Claude Adrien Helvétius was a French philosopher and intellectual during the Enlightenment.
Helvétius was born on January 26th, 1715, although some sources have him being born on February 26th of the same year. He was born in Paris, France. He was born into a long line of physicians, his father was the first physician to the Queen of France at the time. Helvétius was apprenticed to his maternal Uncle in the financial trade.
At the age of 23, at the Queen's request he was made a farmer-general, a tax collector. The post was worth 100,000 crowns a year. With his new found fortune, he was able to turn his attentions to poetry and other intellectual pursuits.
Helvétius associated himself with many of the thinkers of the Enlightenment, including Voltaire. Helvétius wife, Anne-Catherine de Ligniville maintained a salon in Paris for five decades where Enlightenment figures regularly came to meet.
Helvétius wrote a variety of things in his life, the most significant, some might say infamous, was De l'esprit which was published in 1758. The book ranged in philosophies from nation building, to education and to social orders. Although the book was well received by some. Many in France did not like the book. Both the Church and the State in Paris opposed the book. The book was viewed as atheist by the church. It was argued at the Sorbonne, the theological college in Paris, the book had many dangerous ideas in it. The book was burned on several occasions through out Paris. So concerned was Helvétius with his safety he issued three, very embarrassing public retractions about the book.
In the book, Helvétius put forth his theories of egoism, which includes the belief man has no choice when it comes to matters of good and evil. It also states the ideas of justice and injustice change according to customs.
Helvétius also believed every human being had an equal ability to learn and it was up to the government to provide an equal education for all. Based on this, he claimed no nation could claim themselves better than another nation, it was merely the level of education provided.
Helvétius passed away on December 26th, 1771.
Helvétius was a member of Loge des Sciences, which after his passing became the Loge des Neuf Soeurs (Lodge of the Nine Sisters)