Cyril Fletcher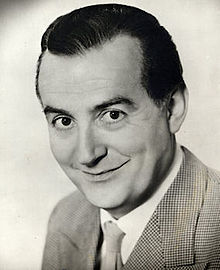 Born June 25, 1913 - Died January 2, 2005
Cyril Fletcher was a British Comedian.
Fletcher was born on June 25th, 1913 in Watford, Hertfordshire, England. He attended Friern Barnet grammar school where at the age of seven he wrote his poem about King John. By the age of fourteen he had already decided to become an actor, he idolized John Geilgud.
After school Fletcher went to work for an insurance broker as a mail clerk. His job, which he hated, consisted of pushing a cart around between the broker's office and the post office. While there he did get the opportunity to sharpen his skills by making up funny poems about his boss and sharing with with his fellow employees. At this same time he was attending the Guildhall School of Music and Drama. He paid the fees by performing in the cabaret.
In 1936, Fletcher was performing on at the Prince of Wales Theatre. He recited one of his odes, commonly referred to as Odd Odes, on stage. An audience member was the director of Fol de Rols, a comedy group of the time. Fletcher was offered £7a week to perform with the group. From there he was offered a job with Radio Luxembourg and then the BBC.
In 1937, Fletcher was doing a broadcast for the BBC when he was running short of material. His poems or odes were his general performance piece. On this night, not having anything additional to use, he adapted a poem called "Dreaming of Thee!" a romantic poem about a solider in the Boer war writing a letter home to his love. Fletcher took the poem and using comic intonation turned it a piece that by the next day he was recognized for. A bus driver who was taking Fletcher's fare blurted out "Dreaming of Thee!" as he got on the bus.
After World War II, Fletcher appeared on a variety of BBC shows including That's Life!, a weekly magazine style show, What's My Line? a BBC version of an American game show where contestants try to stump celebrity panelists and Cyril Fletcher's TV Garden.
Fletcher also wrote several books, including Cyril Fletcher's Odd Odes a collection of his comedic odes.
Fletcher passed away on January 2nd, 2005.
Fletcher is listed as a Freemason on many sites, including the Grand Lodge of Scotland's site. At the time of the writing of this article his actual lodge affiliation was not available.