David Bryan Sentelle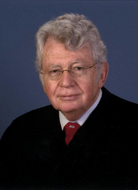 Born February 12, 1943 - Died
David Bryan Sentelle is an American jurist.
Sentelle was born on February 12th, 1943 in Canton, North Carolina. He attended college and law school at the University of North Carolina at Chapel Hill graduating in 1965 from the undergraduate program and from the law school in 1968.
After law school, Sentelle went into private practice before becoming an assistant United States Attorney in Charlotte, North Carolina in January 1970.
From 1974 to 1977 Sentelle served as a North Carolina State District Judge before returning to private practice.
In 1985 Sentelle was to the United States District Court for the Western District of North Carolina in Asheville by President Ronald Reagan. He would serve on the court until 1987.
In 1987, Sentelle was again appointed by President Ronald Reagan, this time to the United States Court of Appeals for the District of Columbia Circuit where he replaced Antonin Scalia. He was confirmed by the United States Senate by a vote of 87-0. On he court Sentelle's judicial clerks are known as Sentelle-tubbies.
As a judge on the D.C. Circuit Sentelle ruled on several notable cases from the 80's to the 2000's. Among those cases he overturned the convictions of Oliver North and John Pointdexter for their roles in the Iran-Contra affair. He also served on a Special Division of the court which appointed Kenneth Starr who replaced Robert Fiske, who was appointed by Attorney General Janet Reno, to investigate the White Water affair. He also upheld the Military Commissions Act of 2006 which suspended habeas corpus for enemy combatants. as constitutional. This was later overturned by the Supreme Court.
Sentelle took Senior Status on February 12th, 2013.
Sentelle is a member of Excelsior Lodge No. 261 in Charlotte, North Carolina.