David Garrick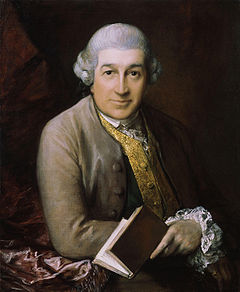 Born February 19, 1717 - Died January 20, 1779
David Garrick was an English actor and theatre owner.
Garrick was born on February 19th, 1717 in Hereford, Herefordshire, England. His father had immigrated to England prior to his birth from France when laws were passed that revoked the rights of protestants in France. After Garrick was born the family moved to Lichfield. There he was educated at the Lichfield Grammar school. At the age of 19 he enrolled in Edial Hall School which was only open for a year and Garrick was one of only three students. The school taught Greek and Latin to young gentlemen.
In 1737, Garrick and his brother started a wine business. The business had two locations, one in Lichfield the other in London which David Garrick ran. The business did very poorly, perhaps because of Garrick's interest in amateur theatricals. At least one person at the time commented that Garrick would have only three quarts of vinegar in his basement and would still call himself a wine merchant.
In 1740, Garrick saw his first professional production. Within a year he was appearing professionally in a variety of plays. His first professional appearance was in Oroonoko, or the Royal Slave in Ipswich. On stage Garrick found much of his success with Shakespeare plays. Later in life Garrick would collect a large variety of Shakespeare memorabilia.
In 1747, Garrick along with a business partner would take over the Royal Theatre, Drury Lane. By the time that Garrick took control of the theatre it was in disrepair. Garrick and his partner were able to rebuild the theatre, both physically and its reputation.
Over his life, Garrick amassed a great deal of wealth, enough to keep himself and his wife very comfortable for their thirty year marriage.
Garrick passed away on January 20th, 1779.
There is no listing for Garrick in the rolls of the Grand Lodge of England. Anecdotal evidence suggests that he was a member of St. Paul's Lodge, No. 194 which met in Williamson's Tavern, Groveland Court, Bow Lane, London, England.