Donald George "Don" Revie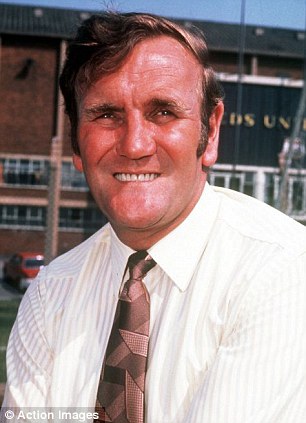 Born July 10, 1927 - Died May 26, 1989
Donald George "Don" Revie was a British football player and manager.
Revie was born in Middlesbrough, North Riding of Yorkshire, England on July 10th, 1927. His mother passed away from cancer when he was 12. His father was a joiner, although was often out of work due to the Great Depression. As a child Revie learned the game of football by playing in a small plot land behind his house and using a ball made up of old rags. Later in life Revie stated he thought all young football players should learn to play on a smaller pitch and with a smaller ball so they learned better control.
In 1944, Revie began his professional career. He first played for Leicester City. He worked on his game under Sep Smith "When not in position, get into position; never beat a man by dribbling if you can beat him more easily with a pass; it is not the man on the ball but the one running into position to take the pass who constitutes the danger; and the aim is to have a man spare in a passing move. Soccer then becomes easy." He played for Leicester until 1949.
In 1949, Revie joined the second division team Hull City. He stayed with them until 1951 when he was sold to Manchester City in the first division. Initially with Manchester City things did go well. Eventually he was moved up and the manager at the time began using Revie in what was to be called the "Revie Plan" which changed English football with the deep-lying center forward. Despite the fact the "Revie Plan" was successful, Revie ended up having a problem with his manager which led to Revie leaving the team in 1956. He went on to play for Sunderland and finally Leeds United.
Starting in 1953, Revie also played for several International teams including The League Football XI, The League of Ireland XI and the England B Team. He played on the international level for 9 years.
In 1961, Revie was made a player manager for Leeds United. In 1962, he stopped playing to focus entirely on managing. He brought a sense of family to the team and the quality of the personnel and level of play increased during his tenure as manager. In the 1962 season, an overly aggressive team captain caused Leeds to get the reputation as being "dirty" this stuck with Revie through his remaining time with Leeds.
In 1974, Revie accepted the position as manager of the England team. Remaining in the position until 1977 when Revie announced he became the manager for the United Arab Emirates. This outraged the English Football Association (FA) and they suspended Revie for 10 years for brining disrepute to the game. Revie sued to have the suspension overturned and was successful.
In 1986, Revie moved to Kinross, Scotland where he planned to retire. In May of 1987, Revie was diagnosed with motor neuron disease. He made his final appearance in May of 1988 at a charity football match for motor neuron disease. He passed away on May 26th, 1989.
Revie was a member of Leodiensis Lodge No 4029 in Otley, England.