Stanley Beresford "Donn" Reynolds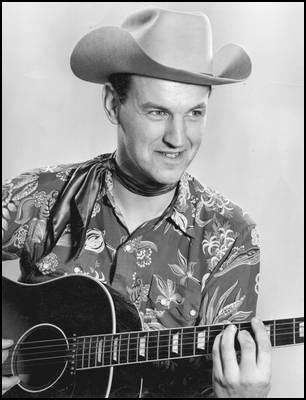 Born June 26, 1921 - Died August 16, 1997
Stanley Beresford "Donn" Reynolds is a Canadian entertainer.
Reynolds was born on June 26th, 1921 in St. Vital, Winnipeg, Manitoba, Canada. By the age of 10, he had taught himself how to play guitar and sing. He was inspired by Harry Hopkinson (aka Harry Torrani), a popular British yodeler in the 1930's. In 1936 he achieved local notoriety when he won a radio talent contest. The following year he created his own band. They performed in local clubs and theaters billing himself as "The Yodeling Ranger."
In 1937, Reynolds started working for Canadian Pacific Railway Coast Service, working on passenger steamships. He would put on impromptu shows for the passengers and crew. In 1939, after Canada entered World War II, he became a Merchant Mariner in the Canadian Merchant Navy with Canadian Pacific Steamships. In 1941 he enlisted in the Royal Canadian Air Force. He was assigned to deep-sea rescue operations in the Northern Pacific. His vocal talents came to the attention of the senior officers and they arranged for his reassignment to the "Joe Boys," a Canadian military entertainment unit touring through Western Canada and Alaska.
After the war Reynolds moved to New Zealand where he toured until 1947. He then moved to Australia. There he traveled around the country until 1948. He was featured on a variety of radio programs, vaudeville acts and worked on his first feature film. He also became the spokesman for Peters Ice Cream as the "Peter's Singing Cowboy."
In 1949, Reynolds traveled to California. From there he entered into recording contracts with some of the music being published and other recorded pieces remaining unpublished until 2013, when they were used on a compilation album. Overall Reynolds would perform across the United States until 1958. In that time he won the "World Open Yodelers Contest" in 1950 and the U.S. National Yodeling Championship in 1956. Both competitions added to Reynolds fame. Shortly after winning the U.S. National Yodeling Championship, Reynolds traveled to England where he made several more recordings and appeared as Davy Crockett in an Irish musical "The Adventures of Davy Crockett." Afterward he returned to the United States until 1959.
In 1959, Reynolds returned to England and began a two year tour of Europe. Along the way he recorded music in various European countries.
In 1962, Reynolds returned to Canada. While in England he had married. He settled with his wife in Winnipeg. Eventually the call for bigger audiences led them to move to Toronto. The couple also appeared together, Reynolds wife had been with a singing group in England. In his solo career, Reynolds recorded several albums several of which had made it on to the Billboard charts. By 1969, the family had moved to Brampton, Ontario.
In the 1970's, Reynolds continued to be asked to be on talk shows around Canada, especially after 1976 when he set a Guinness Book Record for yodeling for 7 hours and 29 minutes straight. In 1984, he set another record when he in 1.9 seconds he was able to produce 5 tones, 3 of which were falsetto.
By the late 1980's country music had turned away from Reynolds yodeling style of music toward a more modern sound. Work became increasingly hard for him to find. There was a brief surge in his popularity when he broke his own record by singing 5 tones in .93 seconds. Despite the industry turning away from Reynolds style of music some of the long standing music festivals had him back annually like the Royal Winter Fair at the Canadian National Exhibition.
Reynolds passed away on August 16th, 1997 following complications from Alzheimer's disease.
Reynolds joined Flower City Lodge No. 689 in Brampton, Ontario during April of 1990. Reynolds, prior to joining the lodge had already been very active with children charities. Joining the lodge opened new avenues for charity work for him.