Fox Maule-Ramsay,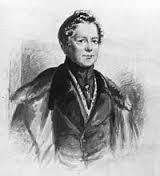 Born April 22, 1801 - Died July 6, 1874
Fox Maule-Ramsay, 11th Earl of Dalhousie was a Scottish politician and peer.
Maule-Ramsay was born in Brechin Castle, Angus, Scotland. He was christened Fox after James Fox, a prominent Whig of the time. He would serve briefly in the army.
In 1835, Maule-Ramsay would enter the House of Commons for Perthshire, a newly formed constituency at the time due to the Scottish Representation of the People Act of 1832. He would serve in the House of Commons until 1841.
Maule-Ramsay would serve as the Under Secretary of State for the Home Department for a brief time before becoming Secretary at War in 1846. He would serve in that position until 1852. It was in 1852 that he served as the President of the Board of Control. The President of the Board of Control was a government official in the 18th and 19th century who was in charge of the British East India Company.
In 1853, Maule-Ramsay became the Keeper of the of the Privy Seal of Scotland and would remain so until his death.
In 1855, Maule-Ramsay would become the Secretary of State for War. The position was a recreated position that had been through several changes since the 1700's. The position that Maule-Ramsay filled was created in 1854. After 1946, the position was removed from the cabinet when the Minister of Defence position was created. Maule-Ramsay would hold the position until 1858. He held the position during the end of the Crimean War and suffered a great deal of criticism during that time.
Maule-Ramsay passed away on July 6th, 1874.
Maule-Ramsay was the Grand Master of Scotland from 1867 to 1870.