Francesco Mario Pagano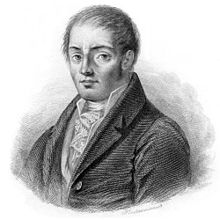 Born December 8, 1748 - Died October 29, 1799
Francesco Mario Pagano was an Italian jurist and author.
Pagano was born on December 8th, 1748 in Brienza, Italy. He studied at the University of Naples Federico II, the oldest known public school which was founded in 1224. There he became a special lecturer in moral philosophy and studied law.
From 1783 to 1785, Pagano wrote Saggi politici which provided a philosophical history of the Kingdom of Naples. In 1787 he wrote Considerazioni sul processo criminale (Considerations on the criminal trial) which gave him international fame, particularly in France and with the French Revolution.
In the 1790's Pagano became a leader in the social and scientific advancement of Italy. More than any other figure of the time he had a powerful influence on what would be considered Enlightenment ideas within Italy. This would lead to problems for Pagano.
In 1794, Pagano defended three men who were accused of conspiring against Ferdinand IV (Also known as Ferdinand I, King of the two Sicilies, since he was King Ferdinand IV of Naples and King Ferdinand III of Sicily). When he failed to get an acquittal for his clients he was arrested, imprisoned and exiled from the kingdom.
Pagano returned to Naples in 1799 and drafted the constitution for the short lived Neapolitan Republic. The constitution was similar to the French Constitution. In one of the key differences, Pagano's constitution created a body called the "body of ephors" whose task was to oversea the maintenance of the law. This is considered to be a precursor to the Constitutional Court, a court whose only task is to determine whether something is unconstitutional.
After the Neapolitan Republic fell, Pagano along with other other revolutionaries were imprisoned and later executed for the revolution. Pagano was hung on October 29th, 1799.
Pagano was a member of the Neapolitan lodge La philantropia. He served as Worshipful Master of the lodge.