Francis Edward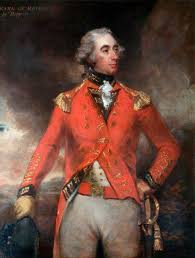 Born December 9, 1754 - Died November 28, 1826
Francis Edward Rawdon-Hastings, 1st Marquess of Hastings, was a British peer, politician and solider.
Rawdon-Hastings was born in Moira, County Down Ireland.
In 1771 Rawdon-Hastings joined the British Army as an ensign. A commission that cost him £200. He also briefly attended Oxford before dropping out to go on the Grand Tour with his uncle. The Grand Tour was a common rite of passage for many wealthy young men in Europe at the time. Meant to be educational as they traveled around Europe.
In 1774 Rawdon-Hastings traveled to America to fight for the British. He served in many battles including the Battle of Bunker Hill, Battle of Lexington and Concord and several other campaigns through 1781. In 1781 Rawdon-Hastings returned to England.
In 1790, then just Rawdon, added Hastings to comply with his maternal uncle's will.
Rawdon-Hastings served briefly during the French Revolution. In 1794 he headed for France to meet up with The Duke of York at the direction of then prime minister William Pitt. After a short time in France facing a larger force in the French, Rawdon-Hastings returned home feeling that Pitt had failed to live up to promises.
It was thought that in 1797 Rawdon-Hastings would replace Pitt as prime minister. This never came to pass.
In 1812 Rawdon-Hastings was appointed Governor-General of India. Rawdon-Hastings had an army under his command and would secure more territories in and around India for the British Empire.
From 1806 - 1808 Rawdon-Hastings was the acting Grand Master of Scotland.