Frederick Thomas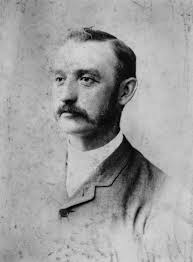 Born November 28, 1846 - Died January 3, 1936
Frederick Thomas Wimble was an Australian printer, publisher and politician.
Wimble was born in 1846 in London, England. He was the thirteenth child of the family. Wimble's father, Benjamin, was in the printing business and had made a name for himself by pioneering color printing in England.
At the age of 21 Wimble traveled to Austria. There he became ill and is doctor recommended a boat trip. Wimble's father paid for the trip to Australia. Wimble arrived in 1867. Not long after arriving in Australia Wimble determined that there was a potential market for inks. Wimble sent word to his father and within a year Wimble received all the equipment he needed to begin producing ink, as well as a starting supply.
In 1868 Wimble claimed that the local newspaper, the Melbourne Star, was using his blue ink and that they were the first newspaper in Australia to be using local ink for their paper. Shortly after that Wimble won a contract to supply red ink for Souther Australia Postage Stamps. This opened the door in Australia for Wimble and he began receiving order from other parts of Australia.
In 1876 Wimble traveled to the United States and Britain seeking new contracts for his company. When he returned he moved his company to Sydney.
By 1883 Wimble had grown weary of the printing business. He sold off his share to partners and moved to Cairns in the northeast corner of Australia. There he had visions of becoming a "sugar baron". This didn't work out for Wimble and he began speculating in real estate. Before the year was up he would return to the printing business as the founder of the Cairns Post. He would also by back his printing business.
Wimble, in 1885, was elected as an alderman for the local council. In 1888 he was elected to the Legislative Council of Queensland. He would hold that seat to 1893 when he would step down.
After leaving politics, Wimble returned to printing and publishing. He would Wimble's Reminder which was more of a catalog. Wimble's Reminder would run well into the 1950's two decades after Wimble's passing. In 1924 Wimble would release his autobiography, Climbing the Ladder.
Wimble was married twice. The first was to Harriett Gascoigne, a widow with two children of her own. The couple were married a short time and had three children, the marriage ending in divorce. Wimble's second marriage to Marian Sarah Benjamin. His second marriage also produced three children. Wimble's second marriage would last until Marian passed away in 1933.
Wimble was a member of Lodge Austral No. 194 in New South Wales, Australia.