George Michael Cohan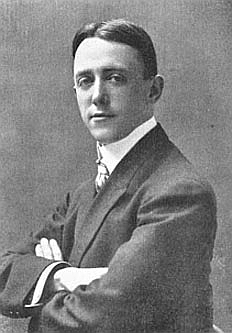 Born July 3, 1878 - Died November 5, 1942
George Michael Cohan was an American entertainer, playwright, composer, lyricist, actor, singer, dancer and producer.
Cohan was born in Providence, Rhode Island. Although there is a birth certificate listing Cohan's birth as July 3rd, 1878, his family would claim that he was "born on the 4th of July." This in part was probably due to the numerous patriotic songs that he would later write. Cohan first appeared on stage as an infant, essentially as a prop for his parents vaudeville act. As he grew he would begin performing acts of his own and would eventually join his family as part of the Four Cohans made up of his mother, father, sister and himself. He would write over 150 songs and skits for the family act. The family act would travel together until 1901. During this time Cohan would develop his famous curtain speech ""My mother thanks you, my father thanks you, my sister thanks you, and I thank you."
In 1904, Cohan would begin a 16 year stretch writing, directing and producing on Broadway. His first was The Governor's Son which was written for the Four Cohans. During his time on Broadway, Cohan would write close to 300 songs. Some of the more famous of them here, "Harrigan", "Give My Regards to Broadway", "You're a Grand Old Flag" and "The Yankee Doodle Boy" also known as "(I'm a)Yankee Doodle Dandy." Like Cohan himself the singer of the song claims to be "born on the 4th of July."
During World War I, Cohan would write one of his more famous songs, "Over There." The song was meant to galvanize the young men who were heading to the battlefields of Europe. The song reflected the feeling at the time that the war would be short lived. It would also be very popular during World War II.
Cohan would spend his later years as an actor, appearing in films and on Broadway. In 1942, the musical bio-pic about Cohan, Yankee Doodle Dandy, was released. Cohan was ill at the time and a private screening was arranged for him. After watching James Cagney portray him on the screen, Cohan would say "My God, what an act to follow!"
Cohan would pass away on November 5th, 1942 from abdominal cancer at the age of 64.
Cohan was a member of Pacific Lodge No. 233 in New York City, New York.