King George VI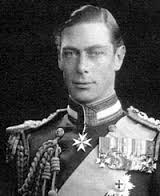 Born December 14, 1895 - Died February 2, 1952
King George VI was the King of the United Kingdom and the Dominions of the British Commonwealth.
George VI was born Albert Frederick Arthur George at York Cottage on Sandringham Estate in Norfolk, England on December 14th, 1895. He was born during the reign of his great-grandmother Queen Victoria. He was named Albert in part due to the fact he was born on the anniversary of the death of his great-grandfather Prince Albert, the Prince Consort. At the time of his birth George VI or Albert as he was known at the time was 4th in line for throne.
In 1909 George VI attended Royal Naval College, Osborne. When he graduated in 1911 he was at the bottom of his class, regardless he went on to Royal Naval College in Dartmouth. It was during this time Edward VII, George VI grandfather, passed away and George's father, George V assumed the throne. Edward VII assumed the throne in 1901 when his mother, Queen Victoria passed away.
George VI spent time in the West Indies after graduating from the Royal Naval College. He saw a large piece of the British Empire during his service and served during World War I. In 1918 when the Royal Air Force was established he transferred from the Royal Navy. George had already been working in aviation under the Navy.
In 1923 George VI married Lady Elizabeth Bowes-Lyon. The marriage produced two children, Elizabeth and Margret. After their wedding George and Elizabeth, or the Duke and Duchess of York, attended to royal duties. They traveled extensively and, much to George's dismay, it required him to give speeches. George VI struggled with public speaking in part due to a stammer. It was after a speech at the British Empire Exhibition in Wembley, an event which was catastrophic for George as well as his audience, he started working with a speech therapist. This was characterized in the movie "The King's Speech".
In 1936 George V passed away and George's older brother became Edward VII. Less than a year later Edward VII abdicated his throne to marry his mistress, a divorced American socialite. This, reluctantly, ascended George VI to the throne.
During George VI reign the break-up of the British Empire accelerated into a Commonwealth of Nations. England went to war with Nazi Germany and eventually Japan and Italy starting World War II.
On February 6th, 1952 George VI passed away and his daughter Queen Elizabeth II ascended to the throne.
George VI was the Grand Master of Scotland during the first year of his reign.