Gwyllyn Samuel Newton "Glenn" Ford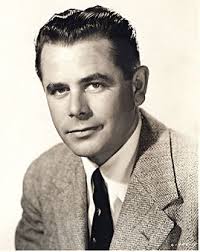 Born May 1, 1916 - Died August 30, 2006
Gwyllyn Samuel Newton "Glenn" Ford was a Canadian-born American actor.
Ford was born on May 1st, 1916 in Quebec City, Quebec, Canada. At the age of eight his family moved to Santa Monica, California. He graduated from Santa Monica High School. While in high school he worked odd jobs which included working for Will Rogers who taught the young Ford horsemanship. Before going into acting, Ford's father told him he should "learn something else first." Essentially a skill to fall back on. Ford followed his fathers advice and at the height of his popularity in Hollywood you could find him working on plumbing, wiring and air conditioning around his house.
In 1939, Ford became a naturalized citizen and signed a contract with Columbia Pictures. He also received his first major part in the film Heaven with a Barbed Wire Fence. His first ground breaking role was in an independent film released two years later called So End Our Night. The director of the film, impressed with Ford's role in Heaven with a Barbed Wire Fence asked Columbia Pictures to loan him for the picture. The film, which was released prior to America's entry into World War II, was a about a young German exile on the run in Europe. The movie was a big hit and was even screened in the White House with Ford in attendance. President Roosevelt was so taken with Ford he invited him to attend his annual birthday party.
When Ford returned to California in 1941 he did two things, became a registered Democrat because he was so taken with the Roosevelt's. He went on to campaign for other Democrats in the 1950's and early 1960's. The second thing he did was join the Coast Guard Axillary.
In 1942, Ford joined the United States Marine Reserve while he was working on a film for Columbia pictures, the studio had to beg the Marine Corps to let him finish the picture before going to boot camp. He served in the Marine Corps until 1944 hoping to see combat. Instead he was stationed in San Diego working for the Public Relations office. He was given a medical discharge from the Marines when it was discovered he had duodenal ulcers.
After 1944, Ford was able to pick his career up essentially where it left off. One of his biggest films was Blackboard Jungle. The film also starred a young Sidney Poitier. Unlike other films of the time like Rebel without a Cause and The Wild One, Blackboard Jungle took on racial issues head on. The film was about an idealistic teacher who was harassed by his students in an urban high school. The theme for the movie was the song "Rock Around the Clock" the first time a rock and roll song was used in a Hollywood film.
In 1958, Ford re-enlisted, this time with the Naval reserve. He went to Vietnam briefly in his role as a public affairs officer, seeking a location for a combat training film. He retired from the reserves in the 1970's.
In 1978, Ford had a brief role in Superman the Movie as Clark Kent's father, Jonathan Kent. In the Superman film, the song "Rock Around the Clock" is heard in the distance as Jonathan Kent speaks with the young Superman. In the 2006 film Superman Returns a photo of Ford is seen on the mantle in the Kent household in his role from the 1978 film.
In his final years, Ford suffered a series of minor strokes which weakened his health. He passed away on August 30th, 2006.
Ford was a member of Palisades Lodge No. 637.