Henry Justin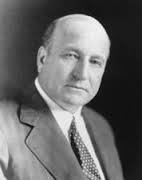 Born September 11, 1868 - Died January 17, 1950
Henry Justin Allen was a politician and newpaper publish from Kanasas. He was the 21st Governor of Kansas as well as a U.S. Senator.
Before getting into politics Allen owned several newspapers in Kansas. The newspapers he owned included the Manhatten Nationalist, and the Topeka State Journal.
When Allen was nominated for Govenor by the Republican party he was in France inspecting facilities provided to Kanas soliders who were part of the American Expeditionary Force during World War I. He actually found out about the nomination from a Paris Newspaper. In France he was traveling with William Allen White, a famous American Newspaper editor. White would later have several disagreements with Allen regaring the policies of Allen's administration.
In 1929 Allen was appointed to fill the vacancy left by Charles Curtis, who had resigned to become Vice President.