Joseph Rudyard Kipling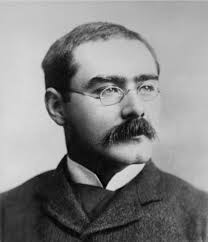 Born December 30, 1865 - Died January 18, 1936
Joseph Rudyard Kipling was a British writer.
Kipling was born in Bombay, India. His parents had moved there the same year he was born. Kipling's parents considered themselves Anglo-Indian, a term commonly used at the time to describe English born individuals who had adopted India as their new home.
In 1871 Kipling was sent to England by his parents to be educated. This was common in British India. Kipling and his younger sister were sent to live with a couple who boarded young people who were attending school in the area. This was a miserable experience for Kipling and in later writings would reflect on the emotional abuse that he had received at the hands of the couple. Fortunately his sister was spared the abuse as the women, Sarah Holloway, had hopes that Kipling's sister would marry their son.
In 1877 when the abuse was revealed, Kipling's Aunt had asked him why he said nothing about the abuse, despite the constant contact between her and Kipling. On this Kipling wrote "Often and often afterwards, the beloved Aunt would ask me why I had never told any one how I was being treated. Children tell little more than animals, for what comes to them they accept as eternally established. Also, badly-treated children have a clear notion of what they are likely to get if they betray the secrets of a prison-house before they are clear of it."
When Kipling's education was coming to an end it was realized that Kipling would not be able to get into Oxford on a scholarship and since the family did not have the means to pay tuition, Kipling returned to India.
On Kipling's return to India his father arranged for him to work for the Civil and Military Gazette. He would refer to the paper as his "mistress and most true love". While he worked for the paper Kipling would write many of his short stories.
In 1889 Kipling left India and headed for London, taking the long way around. Kipling traveled via Singapore, Japan and San Francisco. Then he made his way across the United States meeting Mark Twain along the way in Elmira, New York.
In 1892 Kipling would marry Carrie Balestier, the sister of a former literary collaborator of Kipling's. The two were seen as free spirits and would spend their honey moon in Brattleboro, Vermont on land owned by the Balestier family. Their next stop was Japan only to cut things short when they discovered their bank had failed. The two took it in stride and returned to Vermont.
In Vermont the couple would have two daughters living a modest life. It was in the cottage they were living, which they nicknamed Bliss Cottage, that some of the early ideas and drawings for the Jungle Book would come to be.. Eventually with the arrival of their second daughter it was decided that Bliss Cottage was too congested, so the couple bought land and built a house for themselves just north of Brattleboro, Vermont in a town called Dummerston. The house would receive many guests, including Sir Arthur Conan Doyle.
On life in Vermont Kipling would write:
"A little maple began it, flaming blood-red of a sudden where he stood against the dark green of a pine-belt. Next morning there was an answering signal from the swamp where the sumacs grow. Three days later, the hill-sides as fast as the eye could range were afire, and the roads paved, with crimson and gold. Then a wet wind blew, and ruined all the uniforms of that gorgeous army; and the oaks, who had held themselves in reserve, buckled on their dull and bronzed cuirasses and stood it out stiffly to the last blown leaf, till nothing remained but pencil-shadings of bare boughs, and one could see into the most private heart of the woods."
In 1896 a family dispute and an anti-British sentiment in the United States the Kipling would pack up his family and head back to England. Their Kipling's son John would be born. Unfortunately John would be killed during World War I after Kipling insisted that he join the military. John had poor vision and despite several attempts to join the military he was refused each time. Kipling contacted a friend who was able to get John into the Irish Guard. John was killed at the Battle of Loos and was last scene screaming in pain after an explosion had ripped away part of his face. John's remains would not be identified until 1992.
After his John's death Kipling would write "If any question why we died/ Tell them, because our fathers lied". Some read this as Kipling's guilt of pulling strings to get his son into the military. Others see it as Kipling's disgust of the British government for not having learned their lessons from the Boer War about the preparedness of the military.
Kipling was a member of Hope and Perseverance Lodge No. 782 in Lahore, India. He also received the Marked Master Mason and Royal Ark Mariner degrees of the Allied Masonic Degrees.