Henry Howard Molyneux Herbert, 4th Earl of Carnarvon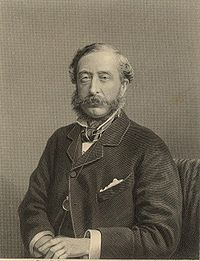 Born June 24, 1831 - Died June 29, 1890
Henry Howard Molyneux Herbert, 4th Earl of Carnarvon was a British politician.
Carnarvon was born on June 24th, 1831 in London, England. He was educated at Eton College and Christ Church, Oxford. He was given the nickname "Twitters" because he had a nervous tic and twitchy behavior.
In 1858, Carnarvon became the Under-Secretary of State for the Colonies. In 1863 he worked on penal reform. He campaigned to make prison confinement more harsh with more severe regimes of labor and diet. In 1864 he brought a bill before the House of Lords which was defeated. In 1866, the Prisons Act was passed which contained many of Carnarvon's ideas with more detailed amendments. That same year Carnarvon became part of the Privy Council and was appointed Secretary of State for the Colonies.
As Secretary of State for the Colonies Carnarvon introduced the British North America Act which brought confederation to Canada. Later in 1866 he resigned in protest over Benjamin Disraeli's Reform Bill.
In 1874, Carnarvon returned to the office of Secretary of State for the Colonies. In his second time in the office he wanted to bring the same confederation plan to southern Africa. This was a plan that, to say the least was not popular in southern Africa. Many leaders warned that it would lead to wars and open conflicts. Many southern Africans spoke out about the plan. One newspaper reporter put the plan this way:
It was as if your tailor should say —"Here is a coat; I did not make it, but I stole it ready-made out of a railway cloak-room, I don't know whether you want a coat or not; but you will be kind enough to put this on, and fit yourself to it. If it should happen to be too long in the sleeves, or ridiculously short in the back, I may be able to shift a button a few inches, and I am at least unalterably determined that my name shall be stamped on the loop you hang it up by."
Still Carnarvon pushed forward with his plan to, as he put it, to prevent the continued existence of independent African states which posed a threat to white civilization. As had been predicted it did lead to several smaller wars. It would in 1880, after Carnarvon had left office to the first Anglo-Boer War.
In 1878, Carnarvon again resigned due to a conflict with Benjamin Disraeli.
Carnarvon passed away on June 29th, 1890.
Carnarvon was a member of Westminster and Keystone Lodge. He served as Pro Grand Master of the United Grand Lodge of England from 1874 to 1890.