James Roosevelt II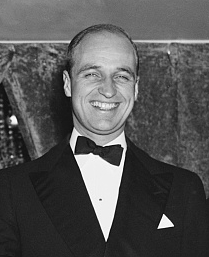 Born December 23, 1907 - Died August 13, 1991
James Roosevelt II was an American politician and businessman.
Roosevelt was born December 23rd, 1907 in New York City. He attended the Potomac School and the National Cathedral School in Washington, D.C. He also attended the Groton School an Episcopal college preparatory boarding school, located in Groton, Massachusettes. After graduating from Groton, he would attend Harvard University, graduating in 1930. After graduating from Harvard he would enroll in Boston Univerisity Law School. He only attend one year.
While attending Boston University, Roosevelt would to work for a Boston insurance agent. He would find the business very lucrative for him. In 1932 he would establish his own firm with John A. Sargent. They would call the firm Roosevelt and Seargent. Roosevelt would be the president of the company. He would resign in 1937.
Starting in 1924, Roosevelt was busy with poltiics. He would attend the 1924 Democratic Convention. In 1932, he would head his father's, Franklin Delano Roosevelt (FDR), presidential campaign in Massachusettes. In 1933, he would be a delegate from Massachusettes to the Constitutional Convention to repeal prohibition.
Roosevelt became a close protege of Joseph P. Kennedy Sr., father of President John F. Kennedy. Many of Roosevelt's controversial business dealings were aided by Kennedy. From 1933 to 1935, Rooselvelt was involved with the National Grain Yeast Corporation. Because of his involvement, Treasury Secretary Henry Morgenthau, Jr threatened to resign unless FDR directed Roosevelt to resign from the Corporation. The coporation was suspected of being a front for bootlegging.
In 1936, FDR's Presidential Secretary passed away and Roosevelt unoffically took over his duties. After the 1936 elections, Roosevelt was given a direct commission to lieutenant colonel in the Marine Corps causing public controversy. In 1937, he would officially be appointed as "administrative assistant to the President." Later that same year he would be appointed Secretary to the President. Roosevelt would become one of his fathers most important counselors. Time magazine would call him "Assistant President of the United States".
In 1938, Roosevelt resigned under public pressure when he was accused of using his political position to steer lucrative business to his insurance company.
After leaving the White House, Roosevelt would move to California and briefly be involved with the movie business. He would become involved with Joseph Schenck, a movie mogul who funneled mob money to the Democratic party. When Schenck was arrested and jailed, Roosevelt tried to get his father to pardon him. It was Henry Morgenthau, Jr who, once again, stopped the pardon.
In 1939, FDR sent Roosevlet on an around the World mission to assure allies that the United States would get involved in World War II. After the bombing of Pearl Harbor, Roosevelt would go on active duty, this time as a captain. He would fight in various battles in the South Pacific.
After the war, Roosevelt would run for various local offices without luck. Eventually he would be elected to the United States House of Representatives serving from 1955 to 1965. He was one of the first politicians to denounce Senator McCarthy's tactics. He was also the only Representative to vote against funding the House Un-American Activities Committee. He would resign from Congress in 1965 when he was appointed by Lyndon B. Johnson as a delegate to the United Nations Educational, Scientific, and Cultural Organization (UNESCO). He would resign from that position in 1966 to return to the private sector.
In the early 1970's, Roosevelt's politcal affiliation shifted. He would become close friends with Richard Nixon and would support his 1972 campaign. The two would remain close until the passing of Nixon. He would also support Reagan in the 1980's.
Roosevelt would pass away in 1991 in California. He would pass away from complications arising from a stroke and Parkinson's disease.
Roosevelt was a member of Architect's Lodge No. 519 in New York City, New York.