John James Audubon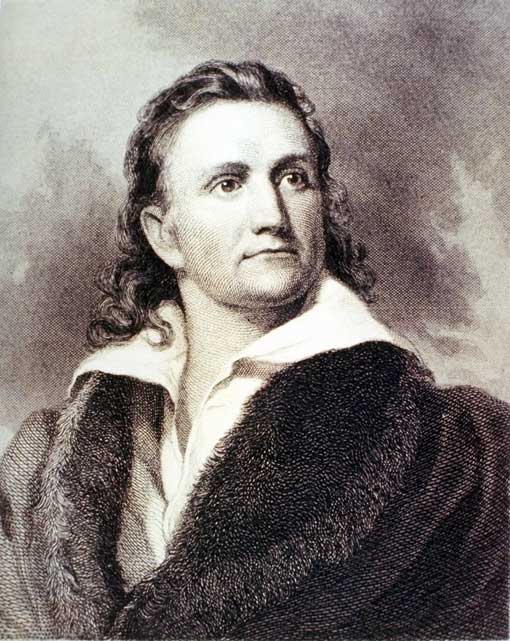 Born April 26, 1785 - Died January 27, 1851
John James Audubon was a French-born American naturalist.
Audubon was born on April 26th, 1785 in the French colony of Saint-Dominique which is now Haiti. He was born Jean Rabin, named for his mother, his father's mistress. His mother died when he was just a few months old. His father took a new mistress who raised Audubon after his half sister was born. Fearing a slave uprising in Saint-Dominique, Audubon's father left the colony along with his son and daughter and returned to France. Their his father reunited with his wife and the two adopted Audubon and his sister to make them legitimate French citizens. They also renamed Audubon to Jean-Jacques Fougère Audubon. At the age of 12, Audubon's father enrolled him in a naval academy. After Audubon's first trip to sea, he discovered he was susceptible to seasickness and hated doing the math associated with navigation. He returned home and began wandering the fields of France.
At the age of 18, Audubon's father who owned land in the United States, arranged for a fake passport for Audubon to avoid conscription in the Napoleonic Wars. Once in America he made his way to the property his father owned outside of Philadelphia. He also anglicized his name to John James Audubon. On the property, Audubon explored nature and began practicing taxidermy. He also began drawing the birds he saw. On the property he began banding birds. He tied a piece of yarn to the birds leg to track where it made it's nest.
Audubon's father hoped he'd establish a lead mine on the property. Instead, after a trip back to France to get his father's permission to marry he sold part of the land in Pennsylvania and moved to New York City to work in the import-export business.
Audubon took on a partnership in an import-export business. The two men moved the business west. In 1808, an embargo on British trade made their business go down, so the two men continued to move their business west hoping to open new markets. As Audubon traveled he continued to collect specimens and drew the wildlife he found. He also started interacting with native American tribes, specifically the Shawnee and Osage tribes. He went with their hunting parties during the day and at night drew the animals he encountered. In 1811, his business partner bought him out of the business.
Without the business to support himself and his family Audubon's wife began being the bread winner of the family. She worked as a school teacher and tutor as Audubon continued his studies, which took him all over America. To help earn money he drew pictures on the spot for $5 and gave drawing lessons.
In 1824, Audubon returned to Philadelphia seeking a publisher for his collection of drawings, which now numbered around 300. Unfortunately in Philadelphia members of the Academy of Natural Sciences of Philadelphia were not fond of Audubon and he was unable to find a publisher. In 1826, at the encouragement of his wife Audubon traveled to England with his images of the American wilderness. There he was able to get backers for his book and began providing the images to subscribers. Eventually he was able to publish his book Birds of America.
While in England, Audubon became the second American to become a member of London's Royal Society. The first being Benjamin Franklin.
Audubon continued his travels even after publishing his first book and documented a variety of other species in his life. In the 1840's he traveled west hoping to find additional species of birds he missed. By the late 1840's he began exhibiting signs of dementia and what is believed to be now Alzheimer disease. Audubon passed away on January 27th, 1851.
Audubon refers to himself as a "brother mason" in his journals. There is no evidence he joined any lodge either in the United States or in England.