John Page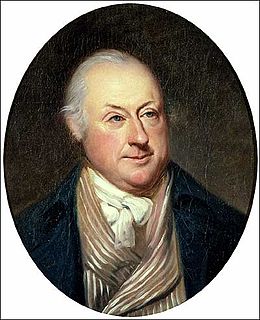 Born April 28, 1743 - Died October 11, 1808
John Page was an American politician.
Page was born on April 28th, 1743 at Roswell Plantation in Gloucester County, Virginia. Roswell Plantation was the home to part of the Page family for more than a hundred years. Page graduated from William and Mary College where he became friends with his classmate Thomas Jefferson. The two corresponded with each other regularly often discussing the Revolution and issues facing the country.
Page served under George Washington during the French and Indian War. He also served as part of the Virigina Militia during the American Revolution. Page raised a militia from Gloucester County and supplemented the unit with his own funds. During the war he also served as part of the Virginia State Consitutional Convention in 1776.
Page was also involed with other politics during the American Revolution. He became the Lieutenant Governor of Virginia serving from 1776 to 1779. He served twice as a member of the Virigina House of Delegates, first from 1781 to 1783 and then from 1785 to 1788.
From 1789 to 1797, Page served as a Congressman in the United States Congress. After Congress he served again the Virgina House of Delegates he served from 1797 to 1801, with the exception 1799. From 1802 to 1805 he served as Governor of Virgina. From 1805 on he served as United States commissioner of loans for Virginia until the time of his death.
Page passed away on October 11th, 1808.
Page was a member of Botetourt Lodge No. 7, Gloucester, Virginia.