Johann Georg Leopold Mozart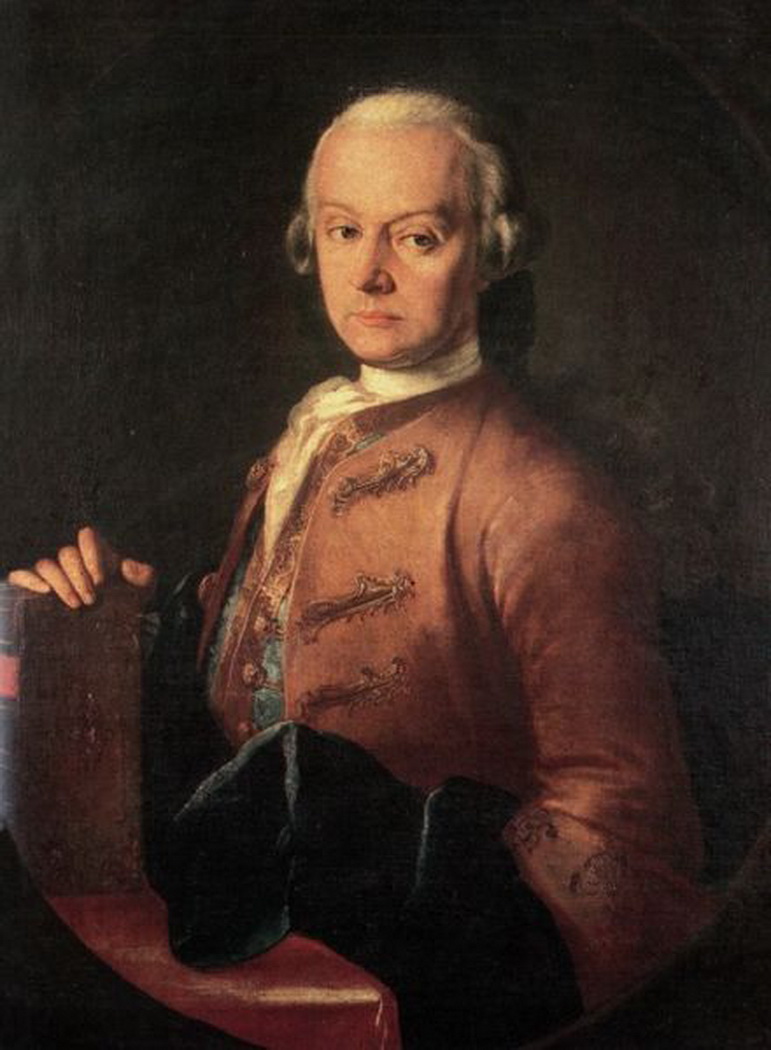 Born November 14, 1719 - Died May 28, 1787
Johann Georg Leopold Mozart was a German composer, conductor, music teacher and violinist. He is most famously known as the father of Wolfgang Amadeus Mozart.
Mozart was born in Augsburg on November 14th, 1719. From an early age he was a choirboy. He attended a local Jesuit school the St. Salvator Gymnasium where he studied logic, science and theology. He graduated magna cum laude from the school before going on to St. Salvator Lyceum. His parents had visions of Mozart becoming a Catholic priest, Mozart had other plans. While at St. Salvator Lyceum he participated in several theatre productions and became a skilled violinist and organist. In less than a year, he had withdrawn from St. Salvator. In 1737, he enrolled in Benedictine University to study philosophy and jurisprudence. In 1738 he received a Bachelor of Philosophy. Shortly after he was kicked out of the univerity for poor attendance.
By 1740, Mozart had become a professional musician. That same year he published his first musical publication, the six Trio Sonatas, Opus 1.
In 1743, Mozart was appointed to the musical establishment of Count Leopold Anton Von Firmian the ruling Prince-Archbishop of Salzburg. He was a teacher and composer. He rose in rank to that of deputy Kapellmeister, which is the person in charge of music making, there is much speculation as to why he was never Kapellmeister as opposed to just a deputy.
In 1747, Mozart married Anna Maria Pertl. The couple would have seven children, only two would survive, Wolfgang and his sister Maria Anna Wallburga Ignatia, who was nicknamed Nannerl. After his children were born, Nannerl was the oldest child, Mozart realized that both his children had musical talent. He would eventually take them on tours around Europe. This actually gives rise to controversy regarding Mozart as a person. There is some questions as to whether he was the loving father encouraging the gifts that his children were given or a fame obsessed tyrant trying to live off his children's talent.
As his children grew older, a rift began to form between Wolfgang and his father. With Nannerl there was a very close relationship, particularly after Mozart's wife passed away 1778. Nannerl took on the duties of lady of the house, helping her father entertain guests. It was not until 33 that she eventually married. It was an unhappy union and surviving letters indicate that Mozart was very involved in his daughters life. In 1785, Nannerl gave birth to her only child, her husband already had several children, and had the child in Salzburg at her fathers home. The child remained with Mozart and he raised the child until the time of his passing. When Wolfgang heard of this a year later he asked his father to take his two children as well so that he and his wife, who Mozart did not like, could travel and perform. This led to another rift between Leopold and Wolfgang.
Mozart passed away on May 28th, 1787. By all accounts this was devastating to Nannerl. Wolfgang in a letter to a friend, despite often being estranged from his father, also expressed his great loss at the passing of his father.
Mozart was a member Zur Wohlt'tigkeit (the charity). Wolfgang would later join the same lodge.