Leverett A. Saltonstall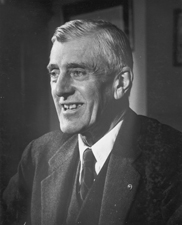 Born September 1, 1892 - Died June 17, 1979
Leverett A. Saltonstall was an American politician.
Saltonstall was born on September 1st, 1892 in Chestnut Hills, Massachusetts. He could trace his ancestry back to the Mayflower on his father's side of the family. He graduated from the Noble Greenough School a private institution in Dedham, Massachusetts. He went on to Harvard College where he participated on the rowing, hockey and football teams. He graduated from Harvard in 1914. He went on to Harvard Law School graduating there in 1917.
Prior to be admitted to the bar, Saltonstall served in the United States Army during World War I with the 301st Field Artillery. He served from 1917 to 1919. He was admitted to the bar in 1919.
In 1920, Saltonstall entered politics as alderman in the city of Newton, Massachusetts. He served until 1922. At the same time he was the assistant district attorney for Middlesex County in 1921 and 1922.
In 1922, Saltonstall was elected to the Massachusetts House of Representatives. He rose to the position of Speaker of the House serving in that position from 1929 to 1937.
Saltonstall was elected the 55th Governor of Massachusetts in 1938. This was after he had run for Lieutenant Governor in 1936 unsuccessfully. He served three terms as Governor from 1939 to 1945. During his term he mediated a strike with the Teamsters, reduced taxes and retired 90% of the states debt.
In 1944, Saltonstall was elected to the United States Senate in a special election to replace Henry Cabot Lodge, Jr. who resigned. He served in the Senate until 1967. During his time in the Senate he served as the Republican Whip and five influential committees.
Saltonstall passed away on June 17, 1979 from congestive heart failure.
Saltonstall was a member of Fraternity Lodge in Newton, Massachusetts.