Lewis Cass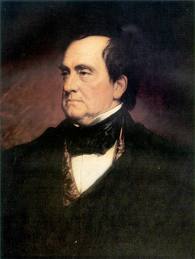 Born October 9, 1782 - Died June 17, 1866
Lewis Cass was an American politician.
Cass was born in Exeter, New Hampshire on October 9, 1782. In 1800, he moved with his family to Marietta, Ohio. There he would meet his wife Elizabeth Spencer who he would marry in 1806.
In 1807, Cass would become the United States Marshall for Ohio. During the War of 1812, Cass would take command of the 3rd Ohio Volunteer Regiment. He would be promoted to Brigadier General in March of 1813.
In 1813, Cass was appointed Governor of the Michigan Territory by President James Madison. The appointment was seen as a reward for his military service. He would serve as the Governor until 1831.
In 1820, Cass led an expedition to northwestern part of the Michigan Territory, which is now Minnesota. The purpose of the expedition was to map the area and discover the source of the Mississippi River. The expedition would miss identify the source as Cass Lake. A later expedition would discover the true source.
Cass resigned as Governor of the Michigan Territory in 1831 to become part of Andrew Jackson's administration. Cass would take on the role of Secretary of War and would be a central figure in the Indian removal policy of the Jackson Presidency. Later Cass would be appointed as the Minister to France.
In 1844, Cass stood as a candidate at the Democratic Convention. He would lose to the dark horse candidate, James Polk who later become President.
Starting in 1845, Cass represented Michigan in the United States Senate. He would resign in 1848 to run again for President. Cass was a leading supporter of popular sovereignty, which stated that it should left to individual states to decide whether they would allow slavery. Anti-slavery members of the Democratic party left the party to form the Free Soil Party. He would return to the Senate after losing the election to Zachary Taylor. He would be the first non-incumbent Democratic Presidential candidate to lose an election. He stay in the Senate until 1857.
From 1857 to 1860, Cass would serve as James Buchanan's Secretary of State.
Cass would begin his masonic journey in December of 1803 when he was initiated as an Entered Apprentice into Union Lodge No. 1 in Marietta. He would receive his Fellowcraft and Master Mason degree in 1804 in the same lodge. In 1805 he would become a charter member of Lodge of Amity No. 105 (now No. 5) near Zanesville, Ohio. He would serve as Lodge of Amity's first Worshipful Master. Because of his position in Lodge Amity he would be one of the founders of the Grand Lodge of Ohio. At the first session he would be elected Deputy Grand Master of Ohio in 1809. The following year he would be elected as Grand Master of Ohio and would serve the next three consecutive years. In 1826, he would become co-founder of the Grand Lodge of Michigan and would serve as their first Grand Master. He would serve as Grand Master of Michigan a second time in 1844.