James Lincoln de la Mothe Borglum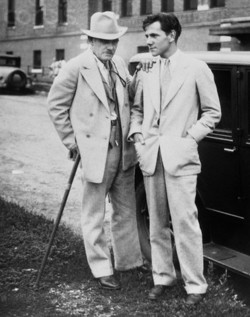 Borglum with his father
Born April 9, 1912 - Died January 27, 1986
James Lincoln de la Mothe Borglum was an American sculptor, photographer, author and engineer.
Borglum was born on April 9th, 1912 in Stamford, Connecticut. His father, Gutzon Borglum, named him after his favorite president Abraham Lincoln. His youth Borglum accompanied his father to the Black Hills of South Dakota which would become the site of the Mount Rushmore monument, which his father would create. Originally Borglum planned on studying engineering at the University of Virginia. Instead, at the age of 21, he joined his father as an unpaid pointer at the Mount Rushmore monument.
On the Mount Rushmore project Borglum was rapidly promoted from unpaid pointer to payroll in 1934. After that he was promoted in 1937 to assistant sculptor and in 1938 to superintendent.
By 1941, Borglum's father had passed away with the majority of the four presidents fully carved, although not 100% complete. Borglum took over as head of the project. Funding had run out though and he was unable to finish his father's work.
Later in 1941, Borglum was appointed as the first superintendent of Mount Rushmore National Memorial. He served in that position until 1944.
After leaving Mount Rushmore, Borglum was commissioned for smaller works. He generally sculpted religious works for churches. Two of his most famous sculptures are Our Lady of Loreto in Goliad, Texas and the sculpture he did of his father which is outside the Lincoln Borglum Visitors Center at Mount Rushmore.
Borglum also wrote three books, all about the sculpting of Mount Rushmore.
Borglum, like many who worked on the project experienced lung damage from breathing in granite dust from the blasting. He passed away on January 27th, 1986 in Corpus Christi, Texas.
Borglum was a member of Battle River Masonic Lodge No. 92 in Hermosa, South Dakota.