Marcelo Hilario del Pilar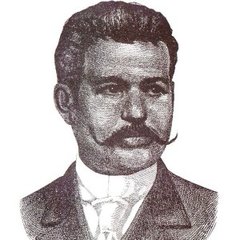 Born August 30, 1850 - Died July 7, 1896
Marcelo Hilario del Pilar was a Filipino revolutionary.
Del Pilar was born on August 30th, 1850 in Cupang, Philippines. From an early age, he learned the piano, violin and flute. After being educated by family members he went on to attend Colegio de San José in Manila. He received a Bachelor of Arts from the school.
In 1869, del Pilar began studying the law. His studies were interrupted when he was sent to jail for disagreeing with a local parish priest. He felt the fees charged at a baptism were too high. For this he was imprisoned for thirty days.
In 1872, a priest del Pilar lived with and del Pilar's brother were both exiled accused of being the organizers of the Cavite Mutiny. The mutiny involved 200 soldiers and laborers who were protesting unfair treatment. The mutineers thought the fight would become national. Unfortunately no one else joined their revolution and most of them were executed.
In 1878, del Pilar returned to his legal studies and graduated with a Bachelor of Laws degree in 1880.
In the 1880's del Pilar started the anti-friar movement. The movement felt friars in the Philippines had too much power. The movement was known as the Propaganda movement in the late 1880's. Once the Propaganda movement began Katipunan, a revolutionary group similar to the Son's of Liberty in the United States, formed. It is claimed del Pilar was the founder of the organization and some anecdotal evidence points to it. The official paper of Katipunan was edited by a person using del Pilar's pen name and the by-laws of the group were approved through del Pilar.
Del Pilar passed away on July 4th, 1896.
Del Pilar served as Worshipful Master of Solidaridad lodge in Madrid. He was directly responsible for the first national organization of Filipino masons in 1893. Because of this he earned the title of "Father of Philippine Masonry."