Daniel Brodhead IV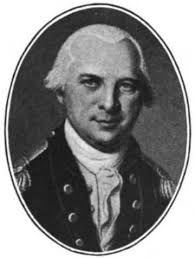 Born - Died
Daniel Brodhead IV was an American Revolutionary War soldier.
Brodhead was born on October 17th, 1736 in Marbletown, New York. When he was just one year old his family moved to frontier settlement of East Stroudsburg, Pennsylvania. The Brodhead homestead was attacked by Lenape and Susquehannock Indians who were resisting the encroachment of settlers.
Leading up to the American Revolution Brodhead led an uneventful life. At one point he worked as a deputy surveyor for Pennsylvania. He also joined the protest movements against British Taxation.
In 1776 when the American Revolution started, Brodhead was commissioned as a lieutenant colonel in the 8th Pennsylvania Regiment. He first saw action at the Battle of Long Island. After the battle he was recognized by George Washington for his bravery and initiative.
After the death of the commander of the 8th Pennsylvania Regiment, Brodhead took command and was promoted to colonel. In 1777 he led his troops in the defense of Philadelphia. He also wintered with the Continental Army at Valley Forge. He also led a successful expedition against Lenape in Ohio country.
In 1778, George Washington sent Brodhead and the 8th Pennsylvania to rebuild and re-garrison Fort Muncy. There he and his men protected local settlers from attacks by British-allied tribes. Brodhead was in command of the 8th Pennsylvania which was part of Brigadier General Lachian McIntosh's attack force when they unsuccessfully tried to take Fort Detroit. After the battle for Fort Detroit, Brodhead replaced McIntosh as head of the Western Department.
Brodhead setup his headquarters at Fort Pitt, now Pittsburgh, Pennsylvania. From there he launched a variety of expeditions attacking British-allied tribes in the area. He also was in charge of some of the treaties with local tribes who sided with the American Revolution, although many of those were strained at best. In 1781 the Lenape-Delaware tribe ended their neutrality and sided with the British. Brodhead led an expedition driving them out of eastern Ohio. The tribe also vowed vengeance on Brodhead.
In late 1781, Brodhead was replaced by John Gibson. This was the second time. Brodhead had been relieved by Gibson earlier in the year and then Brodhead came back and assumed command. The second time he was relived was by order of George Washington. Brodhead was accused of mishandling supplies and money. As was common at the time, the struggling Continental Army had to do whatever it could to gain supplies for the Army. Brodhead used money intended to recruit new soldiers and to purchase materials needed for his existing soldiers. Brodhead went to a court martial and was cleared of all charges except misspending the recruitment money. The court martial ruled he was justified in spending the money and wasn't punished.
Brodhead passed away on November 15th, 1809.
Brodhead was a member of Lodge No. 3 in Philadelphia, Pennsylvania.