Edwin Eugene "Buzz" Aldrin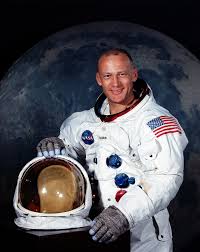 Born - Died
Edwin Eugene "Buzz" Aldrin is an American astronaut.
Aldrin was born in Glen Ridge, New Jersey. He graduated from Montclair High School in 1946 and was offered a full scholarship to Massachusetts Institute of Technology (MIT). He turned down the scholarship to attend the United States Military Academy at West Point. Buzz, which Aldrin made his legal name in 1988, came from his sister who when she was young pronounced "brother" as "buzzer" and later it was shortened to "Buzz".
After graduating from West Point, third in his class, Aldrin was commissioned in the United States Air force. He became a fighter pilot and flew 66 missions during the Korean War. After the war Aldrin went on to many different duty stations.
In 1963 Aldrin received a degree from MIT. The degree, a Doctor of Science in Astronautics, included his graduation thesis which has as it's dedication the following:
"In the hopes that this work may in some way contribute to their exploration of space, this is dedicated to the crew members of this country's present and future manned space programs. If only I could join them in their exciting endeavors!"
After completing his doctorate, Aldrin applied to be an astronaut. His first application was rejected since he was not a test pilot. Aldrin reapplied and the requirement was waived. He was apart of the third group of astronauts appointed in 1963. Prior to 1969 Aldrin flew on two Gemini missions including the final mission, Gemini 12. During Gemini 12 Aldrin had the chance to prove extra-vehicular activity (EVA) was possible. Aldrin set an EVA record on the flight.
In July of 1969, as the whole world watched, Aldrin became the second man to walk on the Moon. While on the Moon Aldrin performed a Communion Ceremony with a home Communion kit and words by his Presbyterian Pastor. The items from the Communion kit were the first food and drink consumed on the Moon. The Communion was kept quiet due to a lawsuit brought by an atheist after excerpts from Genesis were read during Apollo 8. Later, in regards to the Communion Aldrin said:
"Perhaps, if I had it to do over again, I would not choose to celebrate communion. Although it was a deeply meaningful experience for me, it was a Christian sacrament, and we had come to the moon in the name of all mankind – be they Christians, Jews, Muslims, animists, agnostics, or atheists. But at the time I could think of no better way to acknowledge the enormity of the Apollo 11 experience than by giving thanks to God."
Despite photos and other evidence Aldrin and his fellow astronauts brought back from the Moon, there are still those who doubt the lunar landing occurred. In 2002 Aldrin was lured to a Beverly Hills hotel believing he was going to be interviewed for a Japanese children's show about space. Instead he was ambushed by an Apollo Conspiracy believer. Eventually after a confrontation and the individual calling Aldrin a "coward and a liar", Aldrin punched him in the jaw. No charges were filed after the police determined Aldrin was provoked.
Aldrin is a member of Montclair Lodge No. 144 in New Jersey. Aldrin also was a member of the Order of DeMolay and is in the their hall of fame.