Branch Rickey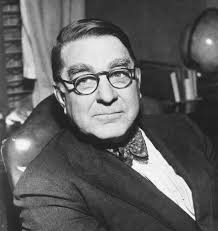 Born - Died
Branch Rickey was an American Baseball and Football player and Baseball executive.
Rickey was born in Stockdale, Ohio.
At the age of 20 Rickey began playing professional football in the "Ohio League", a direct predecessor of the National Football League. During this time Rickey played with and against his friend Charles Follis, the first black professional football player. In a game when Rickey and Follis were on opposite side of the football, Follis ran for a 70 yard touchdown. After the game Rickey referred to his friend as a "wonder". It is thought by some that Follis inspired Rickey decades later to sign Jackie Robinson. Follis was present poise and class under intense racial pressures and still played exceptional despite of that pressure.
A year later in 1903 Rickey started playing professional baseball. He would make his major league debut with the St. Louis Browns in 1905. Rickey was a very non-spectacular player, in fact in one of the games he was playing catcher an opposing team stole 13 bases, a record that still stands in Major League Baseball. During that same game Rickey through out his arm and retired after only one season in the Major League.
Rickey Returned to college at the University of Michigan. He had attended College during his in the "Ohio League". While at Michigan he applied for the job of Michigan's baseball coach. Rickey got every Alumnus he had ever met to send a letter to the Athletic Director Phillip Bartelme. Bartelme was impressed with Rickey's passion and convinced the dean that Rickey could handle his law studies and coach. After receiving letters from Alumnus almost daily and with the approval of the Dean Bartelme summoned Rickey to office to offer him the job. Bartelme would be quoted later as saying that he had the job "to put a stop to those damn letters that come in every day."
In 1913 Rickey returned to Major League Baseball with the Browns in the front office. Rickey became the Brown's manager that same year mid-season. He would manage the team for two more seasons although the team would finish under .500 both seasons.
During World War I Rickey served in the United States Army as the commander of a Chemical Training Unit. Rickey had in his unit Ty Cobb and Christy Mathewson, two future baseball hall of fame members.
After World War I Rickey returned to St. Louis. After a brief stay at the St. Louis Browns, where he conflicted with the new owner, Rickey went across town to work for the St. Louis Cardinals. There as an executive in the front office Rickey started what is now the minor league (farm) system. Using the the farm system Rickey was able to develop players and brought up and coming players into the Cardinal organization. At the time the commissioner of baseball opposed the minor league system fearing that it would destroy non-affiliated minor league teams. Arguably Rickey's minor league system saved minor league baseball as a whole when television started airing major league games attendance at minor league games dropped.
In 1942 Rickey moved to the Brooklyn Dodgers. It was with the Dodgers that his arguably greatest achievement happened, breaking the color barrier of major league baseball. Rickey signed Jackie Robinson in 1945. Robinson played with the Montreal Royals, the Dodgers international league affiliate, where he led the league in batting. In 1946 Jackie Robinson became the first black player in Major League baseball. It should also be noted that a shift in cultural opinion due to the successes of African-American athletes like Jesse Owens and Joe Louis before World War II and the distinguished service of African-Americans during World War II helped Rickey to open the door to signing Jackie Robinson.
In 1967 Rickey was inducted into the Baseball Hall of Fame.
Rickey was a member of Tuscan Lodge No. 240 in St. Louis. When he moved to Brooklyn with the Dodgers Rickey joined Montauk Masonic Lodge No. 286. There are also indications that Rickey was a member of York Rite.