Robert Laird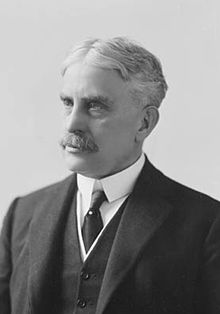 Born June 26, 1854 - Died June 10, 1937
Robert Laird Borden is a Canadian politician.
Borden was born in Grand-Pré, Nova Scotia. Borden would work on the farm owned by his parents.
From 1868 to 1874, Borden would work as a teacher in Grand-Pré and in New Jersey. He would return to Nova Scotia where he would work at a Halifax Law Firm for four years. In August of 1878 he would be called to the bar of Nova Scotia, despite having no formal education. He would place first in his bar examinations.
From 1880, Borden would work in two law firms. In the second he would become a partner and eventually the senior partner in the firm. He would also sit on the board of directors of various Nova Scotia businesses including the Bank of Nova Scotia.
In 1896, Borden was elected to Parliament as a Conservative Just five years before Borden had been a Liberal. He had split with the Liberals over Reciprocity, the idea that free trade should take place with the United States in regards to all natural resources. Borden was firmly against the idea.
In 1911, in the Federal election the Conservatives came to power and Borden would become Prime Minister. Borden would become the last Prime Minister born before confederation and the last Canadian Prime Minister to be knighted. He would lead Canada through World War I. Borden promised half a million soldiers for the war, although he had difficulty recruiting new soldiers when Canadians started to realize that the war would not be over quickly.
In 1916, as Prime Minister Borden would see the National Research Council of Canada created. The NRC is the primary scientific research and development agency of the Canadian government.
In 1917, Borden was re-elected as Prime Minister. During the campaign he had promised equal suffrage for women. In 1918 he would introduce a bill doing just that, the bill would pass easily.
At the Paris Peace Conference at the end of World War I, Borden would demand a separate seat from the British representative. This was initially opposed by both Britain and the United States, the United States felling that this would give a second vote at the table to Britain. Borden argued that Canada had lost greater numbers in the war than the United States. Eventually the British Prime Minister at the time relented and convinced the United States that Canada, along with the other British Commonwealths be allowed their own seat at the table.
Borden would retire from politics in 1920. He would become the Chancellor of Queen's University and McGill University. Although his term as Chancellor of McGill came during the last two years of his term as Prime Minister.
Borden passed away on June 10th, 1937.
Borden was initiated into St. Andrews Lodge No. 1 in Kentville, Nova Scotia in 1880.