Robert Dollar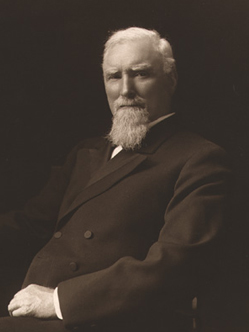 Born March 20, 1844 - Died May 16, 1932
Robert Dollar was a Scottish-born American shipping magnate and lumber baron.
Dollar was born on March 20th, 1844 in Falkirk, Scotland. When Dollar was 9 his mother passed away, he immediately dropped out of school to help the family financially. After the passing of his mother, his father remarried and around 1857 his half sister was born. The same year the family emigrated to Canada.
At the age of 14 Dollar began working as an assistant to a cook in a lumber camp. He also worked in a barrel stave, the wooden slats which make up barrels, factory. He worked his way up in the camp and eventually was working in accounting.
In 1861, Dollar had his first real logging job. He worked driving the logs down the river to the mill. With no roads and the logging taking place a great distance from the mill, it took three months to move the logs along the river. Dollar began keeping a diary in 1866 of events which later helped him to write his memoirs. In his diary he noted it took several weeks before he got his feet under him and much of the time he spent in the water while trying to drive the logs.
It was also in 1866, when Dollar was 22, he began running his own camp. He was the director of the English and American Lumber Company. Unfortunately his first venture failed. Dollar was undeterred by the setback. He learned from his mistakes and was able to buy other camps which were successful. He continued to buy camps and timberland in Michigan, Canada and Northern California.
In 1874, Dollar was married and at the time was in financial difficulties. For their honeymoon, Dollar took his wife and 18 men and established a new lumber camp in Braceridge, Ontario. Dollar's wife Margret S. Proudfoot happily followed her husband on his adventures. She later told her granddaughters "When you get married, never let your husband know he can get along without you." Dollar himself stated "My real success began with my wedding day."
In 1888, Dollar moved his family to San Rafael, California, purchasing timberland and lumber camps in Northern California, Oregon and British Columbia. Among his purchases was a timberland known as "Dollar's Meeker Tract" which had redwoods on them. Dollar sold a portion of the land to the San Francisco Bohemian Club. The piece of land is now known as Bohemian Grove, annually a two week three weekend encampment for it's exclusive members.
In 1895, Dollar acquired his first vessel. This set him on a path to acquiring more ships and soon had ships all over the Pacific. It was not uncommon to see Dollar ships from near Canada, California, Tokyo and Shanghai.
Dollar was also a philanthropist, he donated to many causes. He started a school for the blind in China, built a library and schools in his birth place of Falkirk and worked extensively with the Y.M.C.A.
Dollar passed away on May 16th, 1932 from pneumonia.
Dollar was a member of Bracebridge Lodge No. 360, Braceridge, Ontario, Canada.