Rob Morris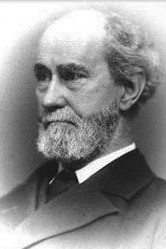 Born August 31, 1818 - Died July 31, 1888
Rob Morris was an American writer and poet.
Morris was born on August 31st, 1818 near Boston, Massachusetts. There is evidence that Morris was actually born Robert Williams Peckham in New York State. It was not until after his father passed away in 1825, his mother had passed away sometime before that, that Morris was placed in a foster home and would take the name of his foster parents "Morris." Later in life when he began writing, he would shorten his first name to Rob to avoid confusion with another poet named Robert Morris. It is believed that Morris went to college in New York state as well.
Morris would teach school for 10 years before moving to Oxford, Mississippi to begin teaching at the Mount Sylvan Academy, a school that was established by Freemasons. It was in Oxford that he would meet his wife and the two would be married in 1841.
It was after becoming a Freemason in 1846, that Morris decided that there needed to be a way for female relatives of Masons to be able to take advantage of the benefits of the fraternity. While a teacher and principal at Eureka Masonic College ("The Little Red Brick School Building") Morris began writing what would later become the ritual of the Order of the Eastern Star. He would title the original ritual as The Rosary of the Eastern Star. Morris would form the Supreme Constellation in New York City and begin issuing charters around the country.
In 1866, Morris became friends with Robert Macoy, a Mason as well and the founder of Macoy Publishing. Morris was getting ready to travel abroad and he turned over all of the authority for the Eastern Star to Macoy. Macoy would later, using The Rosary of the Eastern Star as a guide, published a ritual for the Eastern Star.
During his travels, Morris would spend a year in Jerusalem. There he would establish the first Masonic lodge in Jerusalem named Royal Solomon Number One. He would become the first Master of that lodge.
In 1884, Morris would be named the second, and to this date the last, Poet Laureate of Freemasonry. The first was Robert Burns. The award was granted after Masons from around the World petitioned for it, based on his extensive writings on the subject of Freemasonry. He would write more than 400 poems in his life, most were about Eastern Star and Freemasonry. One his best known poems is The Level and the Square which he wrote in 1854.
Morris's health began to fail in 1887. By June of 1888 he was completely paralyzed. He would pass away on July 31st, 1888.
Morris was raised on March 5th, 1846 in Kentucky. In 1858 and 1859 he would serve as the Grand Master of Kentucky.