Robert William Service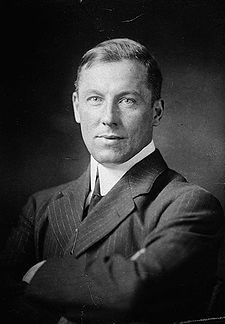 Born January 16, 1874 - Died September 11, 1958
Robert William Service was a British born Canadian poet. It should be noted that although Service was born in England and spent many years in Canada, he also lived in Scotland, where his father was from, France and the United States.
Service was born in Preston, Lancashire, England on January 16th, 1874. It is claimed that at the age of 5 Service wrote his first verse. He had been sent to live in Scotland with his aunts and paternal grandfather. On his 6th birthday he allegedly wrote:
God bless the cakes and bless the jam;
Bless the cheese and the cold boiled ham;
Bless the scones Aunt Jeannie makes,
And save us all from bellyaches. Amen
At the age of 9 Service returned to live with his parents who were living in Glasgow. He attended Hillhead High School in Glasgow. Before leaving Scotland he went to work for the Commercial Bank of Scotland, now the Royal Bank of Scotland. While he was there he was writing and trying to sell his verses.
At the age of 21, Service headed to British Colombia with thoughts of becoming a cowboy, he even had a Buffalo Bill style outfit. He traveled all over North America. He went as far south as Mexico, as far west as California and as far north as the Yukon. In 1899, working as a clerk, Service had a chance meeting with the editor of the Daily Colonist, a Victoria newspaper. He told the editor about some of his verses and shortly after they published the verses in the Colonist.
In 1903, Service was down on his luck, so he took a job with the Canadian Bank of Commerce. In 1904, the bank sent him to their Whitehorse branch in the Yukon. There, Service took part in the social scene reciting poems at public events. He generally recited Casey at the Bat and Gunga Din, which became stale in Service's mind. One evening, after returning from a walk, inspiration struck and he wrote one of his more famous poems, The Shooting of Dan McGrew. About a month later he wrote another of his more famous poems The Cremation of Sam McGee, the inspiration for the poem was a tale that had been circulating about a man who actually had cremated his friend.
Around 1907, Service gathered enough poems for a book. He sent the collection, along with a check, to his father, who had immigrated to Toronto. He asked his father to find a printer for the book. The printer he found took one look at the poems and returned Service's check and included a contract for 10% of royalties.
In 1908, Service was transfered to a branch in Dawson. There he wrote his second book. After the second book was published, Service became a wealthy man and traveled extensively. He returned to Dawson though to write his third book in 1912.
Service served as a war correspondent during the Balkan Wars. During World War I he attempted to join the Army only to be denied for medical reasons. He went to work again as a war correspondent. He was arrested as a spy during an outbreak of "spy hysteria" in Dunkirk. By the end of the war he worked as a stretcher bearer and an ambulance driver.
After the war, Service married and settled in France, specifically in Lancieux. Prior to World War II, Service wrote a satirical poem called the Ballad of Lenin's Tomb. After World War II started, Service and his family fled to the United States. Not long after that, when the Nazis invaded France, the Nazis went to Service's now empty home in Franee, looking for the man who had mocked Hitler in newspaper verse.
From 1949 to 1955, the final years of his life, Service wrote prolifically. He published six books, one would be published posthumously.
Service passed away on September 11th, 1958.
Service was a member of Yukon Lodge No. 45 in Dawson City, Yukon, Canada. He joined the lodge in 1912 during his second time in Dawson.