Charles Robert Wynn-Carrington, 1st Marquess of Lincolnshire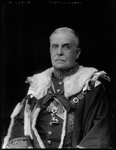 Born May 16, 1843 - Died June 13, 1928
Charles Robert Wynn-Carrington, 1st Marquess of Lincolnshire was a British politician and peer.
Carrington was born in London, England on May 16th, 1843. He was educated at Eton and Trinity College in Cambridge.
In 1865, Carrington sat in the House of Commons as a liberal for High Wycombe. He would leave the seat when he succeeded his father in 1868.
In 1881, Carrington would become Captain of the Honorable Corps of Gentlemen-at-Arms serving in the post until 1885. Also in 1881 he was sworn on to the Privy Council.
In 1885, Carrington would become Governor of New South Wales.
In 1901, King Edward appointed Carrington to lead a special diplomatic mission. Carrington was tasked to announce the King's ascension to the governments of Spain, France and Portugal.
Carrington passed away on June 13th, 1928.
Carrington was initiated into freemasonry on October 28th, 1861 in to Isaac Newton University Lodge No. 859, he was 18. He was passed in Cairo 8 years later and raised in Royal York Lodge of Perseverance No. 7 on October 6th, 1875. On January 3rd 1882 he became a member of Royal Alpha Lodge No. 16. Even though he was not a past Master of a Lodge, he was appointed Grand Senior Warden of the United Grand Lodge of England in 1882. When he became Governor of New South Wales, he found lodges working under the United Grand Lodge of England and the Grand Lodge of Scotland and lodges working under the 1877 formed Grand Lodge of New South Wales. Trying to unite the Lodges, he first became District Grand Master and then Grand Master of the Grand Lodge of New South Wales. However, as he was not already a Worshipful Master, he could not become Grand Master. So, he was made Worshipful Master on sight in Lodge Ionic No. 15. In 1890 he was appointed Provincial Grand Master of Buckinghamshire and after serving five years, he was made Grand Representative in England of the United Grand Lodge of New South Wales.