Philander Chase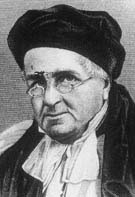 Born December 14, 1775 - Died September 20, 1852
Philander Chase was an American clergyman.
Chase was born on December 14th, 1775 in Cornish, New Hampshire. He attended Dartmouth College and graduated in 1795. After graduation he worked as a lay reader in various New England Towns. He also helped to support himself as a school teacher.
In 1798, Chase was ordained as a deacon of St. George's Chapel in Long Island, New York. After, Chase was assigned to the upper west corner of New York where he traveled and worked as a missionary. The following year he was ordained as a priest. He served a congregation in Poughkeepsie, New York.
In 1805, Chase was challenged to create the first Episcopal congregation in Louisiana. For this, Chase took his wife who suffered from tuberculosis hoping warmer weather helped her condition. While there Chase attempted to hire a house servant. There were none available so Chase purchased a slave from Maryland. Chase considered slavery as evil and immediately freed the man, Jack. In 1807, Jack boarded a ship for England. This caused Chase's character to come into question in Louisiana, he not only freed the man, he allowed him to leave for England.
In 1817 Chase traveled to Ohio where he evangelized to the pioneers on the frontier. In 1818 he was elected as the Bishop of Ohio, an unfunded position. In 1823 he worked to establish a seminary school in Ohio. He traveled to England to try to raise money for the school and although relatively successful he was eventually forced to make a decision to give up control of the school. He not only gave up control of the school he also resigned his position as Bishop.
In 1835, Chase was asked and accepted the position of the first Episcopal Bishop of Illinois. In Illinois he once again attempted to create a school for the school. As Chase's health declined the school was not able to support of itself. After his passing the school was turned over to the state of Illinois.
Chase was riding in a carriage with his second wife, the first passed away many years earlier. The carriage overturned and Chase suffered a concussion. He told the men who carried him home "You may now order my coffin, --I am glad of it!". Chase passed away 7 days later on September 20th, 1852.
Chase was raised in Temple Lodge No. 14 in Albany, New York.