Robert LeRoy Cochran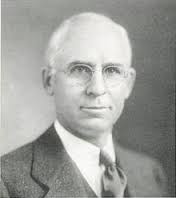 Born January 28, 1886 - Died February 23, 1963
Robert LeRoy Cochran was an American politician.
Cochran was born on January 28th, 1886 in Avoca, Nebraska. His early education came in a sod school house before he graduated from Brady High School. After high school he went on to the University of Nebraska where he graduated in 1910.
After graduating, Cochran went to work for the county surveyor office. Later he was hired by the Atchison, Topeka and Sante Fe railroads. In 1912 he ran for and was elected as County Surveyor serving until 1916.
During World War I, Cochran enlisted and served with the Army Artillery Corps. He was discharged in 1919.
In 1934, Cochran ran successfully for the office of Governor of Nebraska. He was the 24th Governor of the state. He became the states first consecutive three term governor. In 1940 he ran for the United States Senate unsuccessfully.
From 1941 to 1942, Cochran again joined the the United States Army during World War II at Camp Leonard Wood in Missouri. In 1942 he became assistant commissioner of the Federal Public Housing Authority, in 1943 he became the commissioner until 1944. He also served as the Deputy Commissioner of the American Mission for Aid to Greece before retiring in 1956.
Cochran passed away on February 23rd, 1963.
Cochran was a member Gothenberg Lodge No. 249 in Gothenberg, Nebraska. It is also reported he was a member of the Ancient Accepted Scottish Rite, Southern Masonic Jurisdiction, a Royal Arch Mason, Knights Templar and a member of Tangier Shrine Temple.