Victor Marie du Pont de Nemours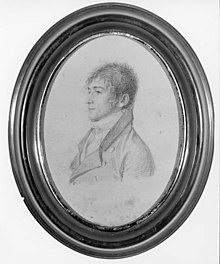 <em><b>Born</b> October 1, 1767 - <b>Died</b> January 30, 1827</em>
Victor Marie du Pont de Nemours was a French-born American businessman.
Du Pont was born on October 1st, 1767 in Paris, France. At the age of 17 he began working for his father in the Bureau of Commerce during the reign of King Louis XVI. The position afforded him the opportunity to travel extensively around Europe and associate with his father's influential friends.
In 1788, du Pont began working for the French Minister to the United States. With the minister he traveled to New York and Philadelphia. After four years in the United States he returned to France just long enough to be married. In 1793 he returned to the United States this time as the French Consul at Charleston, South Carolina. President John Adams refused to recognize him in the position so he returned to France.
Once back in France, du Pont worked to arrange for the entire family, his parents and siblings, to immigrate to the United States. In 1800 they traveled on the ship American Eagle to Newport, Rhode Island. From there they moved to Bergen Point, New Jersey where the family considered the next business venture for the family. One idea was for one of du Pont's brothers to start a gunpowder company. Du Pont traveled with one of his brothers back to France to try to get financial backing for the venture.
When du Pont returned to the United States he went to New York where he established a trading company Victor du Pont de Nemours & Co. He acted as an agent for the French Consul-General providing provisions for French Troops who were trying to quell the rebellion going on in Santo Domingo. By 1808 the firm had gone bankrupt since many of the advances he made, including those to the French government, went un-reimbursed. Afterward he tried his hand at farming and merchandising in western New York.
In 1811, du Pont moved his wife and children to Delaware where they established residency. There du Pont established a woolen mill where he largely produced cotton cloth. He also took on a partner and the company became Du Pont, Bauduy & Co. Not long after arriving in Delaware du Pont was elected to the State House and served for three years from 1815 to 1817. In 1821 he served in the State Senate from 1821 to 1823.
Du Pont had three sons, one died in infancy, and two daughters. His youngest son was a Union Rear Admiral during the American Civil War.
Du Pont passed away on January 30th, 1827.
Du Pont's original membership is unknown. What is known is in 1808 he petitioned for the establishment of a lodge in Angelica, New York. After moving to Delaware he affiliated with two lodges before being listed as one of the founding members of Lafayette Lodge No. 14 in Wilmington, Delaware. The official charter of Lafayette Lodge states as it's date 1825.