Samuel Langhorne Clemens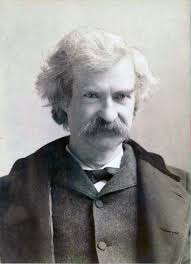 Born November 30, 1835 - Died April 21, 1910
Samuel Langhorne Clemens was an American author and humorist.
Clemens, best know by his pen name Mark Twain, was born in Florida, Missouri on November 30th, 1835. He was the 6th of 7 children. Three of his siblings did not survive past childhood and one brother was killed in a riverboat explosion at the age of 20.
When Clemens was four the family moved to Hannibal, Missouri along the Mississippi River. Hannibal became the inspiration for St. Petersburg in The Adventures of Tom Sawyer and Adventures of Huckleberry Finn.
In 1848 Clemens, after the death of his father the year before, become a printers apprentice. In 1851, he began working as a typesetter for the Hannibal Journal. He contributed articles and humorous sketches to the paper which was owned by his brother Orion.
When Clemens turned 18 he went traveling and worked in several cities as a typesetter before returning to Missouri. On his return he was taken on as a "cub" pilot and began learning the ropes of piloting a steamboat on the Mississippi. Eventually he convinced his younger brother Henry to join him in working on the Mississippi. Unfortunately Henry died in an explosion on board the vessel he was working. Clemens carried the guilt with him the rest of his life. In part his guilt came from a dream he had a month before the accident where he saw his brother die. This sparked Clemens interest in parapsychology.
When the American Civil War broke out Clemens left Mississippi and enlisted in a confederate unit for a short time. He left the unit to join his brother Orion in Nevada where Orion was working for the Governor of the territory.
After various jobs in Nevada he again worked for a newspaper writing various articles. This was the first time Clemens used his pen name "Mark Twain".
In 1867 Clemens was sent to the Mediterranean to write a travel log. While on the trip he met his future brother-in-law Charles Langdon. Langdon showed him a picture of his sister and he claimed he fell instantly in love.
Clemens and Olivia were married three years later in Elmira, New York. Olivia came from a wealthy family and provided many opportunities for Clemens to socialize. Through Olivia, Clemens met, abolitionists, socialists, women's rights advocates and people seeking social equality.
Clemens believed in the advancement of science and became friends with Nicola Tesla. The two spent many hours in Tesla's lab. Unfortunately Clemens love and passion for science led to his financial downfall. He invested in a variety of inventions, most generally flopped and cost Clemens all of the money he made from his books and much of Olivia's inheritance.
The Adventures of Huckleberry Finn is often called "the great American novel". Despite this fact it has often faced censorship and has been criticized for it's language. In 1905 both Tom Sawyer and Huckleberry Finn were banned from the children's section of the Brooklyn Public Library. Often the banning and criticism of the book is brought up by individuals who have a religious or political agenda.
His brother Henry was not the only person Clemens had a premonition about. Clemens, born two weeks after the closest approach of Halley's Comet, claimed his premonitions showed him he was destined to "go with it" on the next arrival. Clemens died the day after it returned on April 21st, 1910.
Clemens was a member of Polar Star Lodge No.79 in St. Louis, Missouri. He is listed as NPD (non-payment of dues).