Johannes Peter "Honus" Wagner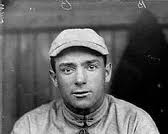 Born February 24, 1874 - Died December 6, 1955
Johannes Peter "Honus" Wagner, generally referred to as Honus Wagner was an American baseball player.
Honus Wagner was born in Pittsburgh, Pennsylvania. He was one of 9 children. As a child, Wagner's mother referred to him as "Hans" which would later turn into "Honus".
At the age of 12 Wagner dropped out of school to work with his father and brothers in the coal mine. In their free time they would play sandlot baseball and many of the brothers had skill in the game. In fact three of his brothers went on to play professional baseball. One of his older brother's got him his first tryout in baseball.
In 1895 Wagner got his first professional baseball tryout on the same team his older brother played on. Ed Barrow of the Atlantic League was impressed with Wagner and in 1896 got Wagner a tryout with the Louisville Colonels. Wagner played for the Colonels for 3 years. In 1899 the National League reduced it's number of teams from 12 to 8, the Colonels being one of the teams removed from the league. Barney Dreyfus who owned the Colonels and was part owner of the Pirates took Wagner and several other of his players with him to the Pirates. Wagner would play for the Pirates for the rest of his career.
Wagner made it to two World Series in his career. He appeared in the first World Series in 1903 facing Cy Young and again in 1909 facing Ty Cobb.
Wagner would retire from playing in the Major Leagues in 1917. He would continue to play baseball on semi-pro teams and would coach for the Pirates for 39 years.
Also after retiring Wagner would appear in a couple of films.
In 1936 Wagner was one of the first five people inducted into the baseball hall of fame. He received the 2nd highest vote count after Ty Cobb and tying with Babe Ruth. Cobb once referred to Wagner as "maybe the greatest star ever to take the diamond."
Wagner was a member of Centennial Lodge No. 544 in Pennsylvania.