Joseph Smith Sr.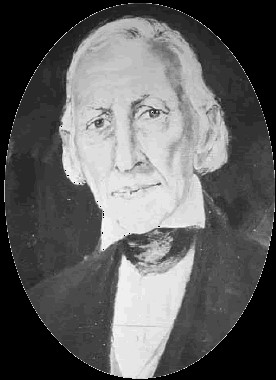 Born July 12, 1771 - Died September 14, 1840
Joseph Smith Sr. was an American and father of the founder of the Mormon religion.
Smith was born on July 12, 1771 in Topsfield, Massachusetts. At the age of 25 he married Lucy Mack in Tunbridge, Vermont where the couple lived and had 11 children. Smith was never a spiritual man and left the religious education of the children to his wife. While still in Vermont Smith claimed to start having a series of dreams which continued after the family moved. The dreams totaled seven in all and his wife Lucy documented five of the dreams she remembered.
Smith tried his hand at a variety of careers and none of them were successful. In 1816 he moved his family to Palmyra, New York. There he purchased a farm and began building a house. In 1823, his eldest son Alvin passed away and Smith, whether it was related or not is unclear, stopped paying on the farm. The property was eventually purchased by a friend of the family who rented them the farm. It was also during this time Smith and his sons were actively involved in treasure digging excavations.
In the late 1820's Joseph Smith Jr. began telling the family about seven golden plates which he said contained a record of the ancient inhabitants of the Americas. Smith Jr. eventually said he obtained the plates and was able to translate them. In 1829, Smith Sr. and seven other men signed a joint testimony, they stated they saw and handled the plates. This became known as the "Testimony of the Eight Witnesses." A copy of this was included in the first Book of Mormon and in nearly all subsequent versions of the book.
In 1830, Smith Sr. was baptized into the Church of Christ. It is said Smith Jr. proclaimed "Oh! My God I have lived to see my own father baptized into the true church of Jesus Christ!" when he saw his father come up out of the water.
In 1831, Smith Sr. moved his Smith Jr. to Ohio to the new church headquarters. In 1833, Smith Sr. was declared the Presiding Patriarch. Smith Jr. likened his father to Adam stating "So shall it be with my father; he shall be called a prince over his posterity, holding the keys of the patriarchal priesthood over the kingdom of God on earth, even the Church of the Latter Day Saints."
Smith Sr. moved with the family through Missouri and then to Nauvoo, Illinois. By then it was 1839, old age and poor health was catching up to Smith Sr. He called his family together in the summer of 1840 to deliver a final patriarchal blessing and appoint his son Hyrum as his successor as Presiding Patriarch.
On September 14th, 1840, Smith passed away.
Smith was raised in Ontario Lodge No. 23 in Canandaigua, New York on May 7th, 1818.