Noah Haynes Swayne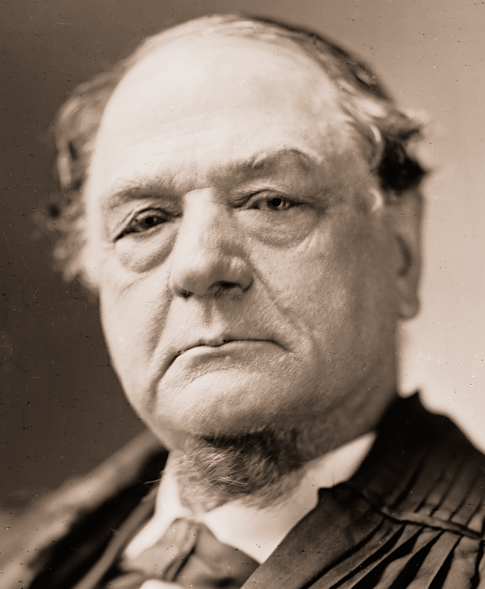 Born December 7, 1804 - Died June 8, 1884
Noah Haynes Swayne was an American jurist.
Swayne was born on December 7th, 1804 in Frederick County, Virgina. His father passed away when Swayne was only 5. Shortly after his father's passing, Swayne was enrolled in Jacob Mendendhall's Academy, a respected Quaker school in Virginia. After graduating he began studying medicine until his teacher passed away in 1819. Despite the family having no money, Swayne turned his attention to the law. He began reading law with two Virgina attorneys and passed the bar in 1823.
Being a devout Quaker, Swayne was deeply opposed to slavery and it is believed that on a few occasions he represented runaway slaves. In 1824, he left Virginia for the free state of Ohio. This move was largely due to his abolitionist position. He began a private practice on arriving in Coshocton, Ohio. In 1825 he was elected the Coshocton County Attorney. In 1829 he was elected to the Ohio state Legislature. The following year he was appointed United States Attorney for Ohio by then President Andrew Jackson.
Swayne moved to Columbus to take over his position as U.S. Attorney. In 1834 he was elected to the Columbus city council. In 1835, an escalating border dispute between Ohio and the Michigan territory led to Swayne and two others to be sent to Washington, D.C. to confer with President Jackson and ask him to intervene. In 1836 he was elected to the Ohio House of Representatives.
It was during his time as U.S. Attorney that he became friends with John McLean who was sitting on the United States Supreme Court. McLean was one of the two dissenting votes in the Dred Scott Decision. The Decision is cited as one of the reasons that led to the American Civil War. In the Decision it was said that individuals who were descendent's of African slaves had no right to citizenship and therefore had no right to sue in a court. McLean was one of the founding members of the Republican party and Swayne joined him. Both of them sharing the belief that slavery should be abolished. McLean sought the Republican nomination in 1860, losing to Lincoln. He asked Lincoln to promise, that should anything happen to him that he would place Swayne on the Supreme Court as his replacement. Shortly Lincoln took office, McLean passed away and Swayne was put on the Supreme Court.
Swayne supported Lincoln in many of his Civil War actions. After the war he ruled on the pivotal Slaughterhouse Cases which were a test of the first section of the Fourteenth Amendment which effectively overturned the Dred Scott Decision. Beyond some of the Fourteenth Amendment cases he heard it is felt that Swayne was one of Lincoln's weakest appointments to the Supreme Court.
Swayne stayed on the Supreme Court until 1881 and was in poor health at this retirement. He only agreed to retire if an attorney from Ohio was appointed as his replacement.
Swayne passed away on June 8th, 1884.
Swayne was a member of Clinton Lodge No. 96, now Coshocton Lodge, joining in 1827. In 1841 he affiliated with Columbus Lodge No. 30 in Columbus, Ohio.