Robert Trimble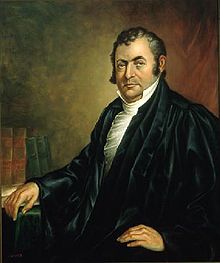 Born November 17, 1776 - Died August 25, 1828
Robert Trimble was an American jurist.
Trimble was born on November 17th, 1776 in Berkeley County, Virginia. At the age of three, he would move with his family to Kentucky. Growing up there was little opportunity for education. He would gather what resources he could to study. He would eventually teach school for a few years. Later he would attend a new law school in Lebanon, Ohio.
Trimble would read law, essentially apprentice to be a lawyer, under George Nicholas until his passing in 1799. He would then read law under Louisiana Senator James Brown. He would licensed to practice law in 1803 and would open a practice in Paris, Kentucky.
In 1803, Trimble would be elected to represent Bourbon county, Kentucky in the Kentucky House of Representatives. He would serve only a single term. He would never hold another elected office due to his dislike for the life of a politician. He would be nominated twice for the United States Senate, turning down both nominations.
In 1808, Trimble would be commissioned as an associate justice on the Kentucky Court of Appeals. It would be offered in 1810 to promote him to Chief Justice of the court. He declined the offer for fiscal reasons and returned to his law practice.
In 1813, Trimble was appoint the United States Attorney for the District of Kentucky by President James Madison. Madison would later nominate Trimble to a seat on the United States District Court for the District of Kentucky. Trimble would be quickly confirmed by the United States Senate on January 31, 1817.
In 1826, President John Quincy Adams would nominate Trimble for a vacated seat on the United States Supreme Court. Again Trimble would be easily confirmed by the United States Senate. As a member of the court, Trimble would generally agree with the opinions of Chief Justice John Marshall. His most notable departure from the Chief Justice was the only case that Marshall wrote the dissenting opinion for the court. The case was Ogden V. Saunders involving the ability of states to write bankruptcy laws and how those laws effect the Constitutions clause on barring states from impairing the obligations of a contract.
Trimble would serve on the Supreme Court until the time of his death. He would pass away on August 25th, 1828. He would pass away from a "malignant bilious fever."
Trimble was a member of Union Lodge No. 16 in Paris, Kentucky.