Israel Isidore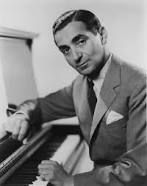 Born May 11, 1888 - Died September 22, 1989
Israel Isidore Beilin (Irving Berlin) was an American composer and lyricist.
Berlin was born Israel Isidore Beilin in Russia on May 11th, 1888. It is not clear where in Russia Berlin was born. For the first five years of his life in Russia, Berlin claimed to have little memory. One of his few memories was watching the family home burnt to the ground by Cossacks during a pogrom, a violent riot aimed at the massacre and persecution of an ethnic or religious group. In Berlin's case his Jewish family. Although Berlin claimed to have no real memory of Russia, one of Berlin's biographer claimed that Berlin's father was devout in his religious beliefs to the point that if young Berlin did not put on his shoes as proscribed in the Talmud, he would beat young Berlin.
After losing the family home, Berlin's family made their way to New York City. When they entered the United States the family name was changed to Baline. At the age of 13, Berlin's father passed away and Berlin was forced to help support the family. He would sell newspapers for a time, while walking the streets he would hear the sounds of popular music coming from the bars along his route. Before he was fourteen, Berlin realized that he was helping the family less than his younger sisters so he ran away from home. Once on the streets he would form a singing group with other street children. They would go around and sing popular songs hoping to get some pennies.
By the time Berlin had turned 18, Berlin was working as a singing waiter in Chinatown. He would sing popular songs to customers. He would also alter the songs to make them more "blue" much to the delight of his patrons. At night Berlin would teach himself piano. It was here that Berlin wrote his first song, "Marie from Sunny Italy" which he wrote in collaboration with the regular piano player. The sheet music when printed had a typo on it stating that it was written by I. Berlin and Beilin had officially become Berlin.
In 1911, Berlin composed his first big hit "Alexander's Ragtime Band". Initially it was used in Jesse Lasky's follies without lyrics and only lasted a short time in the follies. Once Berlin added words to the song it took off. Berlin himself was stunned by the popularity of the song and felt that the lyrics he wrote were silly. Regardless the song propelled him into the limelight.
In 1917, Berlin was drafted into the United States Army. His drafting into the Army made headline news. The Army was not looking for the 30 year old Berlin to fight, they had a more important role for him to which he was much better suited, composing patriotic songs. At one point the several songs that Berlin composed were put into a musical review, "Yip Yip Yaphank", which earned $150,000 for the camp service center. One of the songs that Berlin composed at the time didn't make it into the review, in fact it would be heard for nearly 20 years, "God Bless America."
After World War I Berlin would continue to compose. He would release "God Bless America" in 1938. The royalties to the song were assigned to the Girl Scouts and Boy Scouts who have earned millions from the royalties. After the attack on the United States on September 11th, 2001, a group composed of members of congress sang it on the capital steps. When Broadway turned it's lights back on members from a variety of Broadway shows joined together for a chorus of what many consider to be the second national anthem.
In 1941, after the bombing of Pearl Harbor, again Berlin set himself to write patriotic songs. A collection of those songs became the play "This is the Army." Berlin would take the play around the World for a 3 and a half year tour. During the tour, Berlin took no money or expenses, all money taken in by the play was given to the Army Relief Fund.
After the war Berlin would continue to write and would write for several movies, including "White Christmas."
Berlin passed away at the age 101 on September 22nd, 1989. He passed away in New York City of natural causes.
Berlin was a member of Munn Lodge no. 190, the Scottish Rite Valley of New York City and Mecca Shrine Temple.