Henry Pelham Holmes Bromwell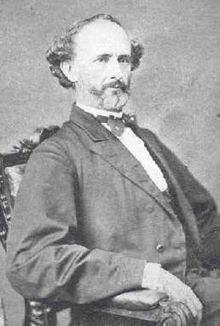 Born August 26, 1823 - Died January 1, 1903
Henry Pelham Holmes Bromwell was an American politician and masonic scholar.
Bromwell was born on August 26th, 1823 in Baltimore, Maryland. By 1836 he had moved with his family to Cumberland County, Illinois. He attended various private schools including Marshall Academy where he became an instructor in 1844. In 1867 he received an honorary Master of Arts degree from McKendree College based on his reputation for scholarship.
In 1848, Bromwell moved to Vandalia, Illinois. There he worked for his father's newspaper The Age of Steam. In 1853 he was admitted to the bar and began practicing law. Shortly after he was elected County Judge. While he was practicing law in Vandalia he became friends with future President Abraham Lincoln. In 1860 he was a presidential elector for Lincoln.
From 1865 to 1869 Bromwell served in the United States House of Representatives.
In 1870 Bromwell moved to the Colorado territory where he would live out the rest of his life. There he served in the territorial government as well as the first State of Colorado Legislature.
Bromwell passed away on January 9th, 1903.
Bromwell had an extensive masonic career. He was a member of Temperance Lodge No. 16 in Vandalia, Illinois. He was the Grand Orator of the Grand Lodge of Illinois and in 1864 or 1865, the records are unclear, he was the Grand Master of the Grand Lodge of Illinois.
In 1870 when Bromwell moved to the Colorado Territory he joined Denver Lodge No. 5. He also served as the Grand Orator of the Grand Lodge of Colorado. In 1889 he was made an honorary Grand Master of the Grand Lodge of Colorado. In the motion it stated that Bromwell "does not need this honor to add to his fame as a wise and good mason, but because we honor ourselves in honoring him."
In Colorado Bromwell also started a new branch of Freemasonry called Free and Accepted Architects. The organization lasted only 21 years. It's purpose was to emphasize the symbols which Bromwell thought that Freemasonry had left behind. The organization did for a Grand Lodge during it's existence and had 5 or 6 lodges around the country, mostly in Colorado and Illinois. In 1958, the Grand Secretary of the Grand Lodge of Colorado took the ritual of the the Free and Accepted Architects, performed the degrees to initiate enough people to fill the Grand Line for the Grand Lodge of Free and Accepted Architects so they could open long enough to vote to turn the ritual over to the Allied Masonic Degrees and placed it in the custody of the Grand College of Rites. It was stated that  "there would be no initiations and the Rite would remain dormant as far as extension of its membership and authority would be concerned."
In 1884 Bromwell began work on his book Restorations of Masonic Geometry and Symbolry. It is said that it took him six years and two months working 16 hours a day to complete the book. One of Bromwell's detractors is Henry William Coil who wrote Coil's Masonic Encyclopedia. Coil claimed that since the five lodges that Bromwell created under the Free and Accepted Architects failed that meant that Bromwell's book Restorations of Masonic Geometry and Symbolry was not of importance. Coil stated that without reviewing any of Bromwell's research and Coil started his book more than 30 years after Bromwell's passing.