James Holley "Jim" Douglas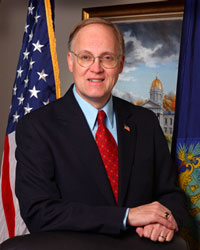 Born June 21, 1951 - ?
James Holley "Jim" Douglas is an American politician.
Douglas was born on June 21st, 1951 in Springfield, Massachusetts. In Massachusetts he was a member of the Order of DeMolay, a masonic sponsored youth organization. In 1968 he graduated from East Longmeadow High School before going on to Middlebury College in Middlebury, Vermont. He graduated with a Bachelor of Arts degree, majoring in Russian Studies.
In 1972, Douglas was elected to the Vermont House of Representatives as a Republican where he served until 1979. During his time in the House he served as the House Majority Leader. After leaving the House he briefly served as a top aide to Governor Richard Snelling.
In 1980, Douglas was elected as Secretary of State for Vermont. He held that position until 1992. That same year he ran, unsuccessfully, for the United States Senate against incumbent Patrick Leahy.
In 1994, Douglas was elected as Vermont State Treasurer. He served in the office from 1995 until 2003. After the election an opening appeared in the State Treasurers Office for the Deputy Treasurer for the remaining two to three months before Douglas assumed the office. Douglas was offered the position, which he gladly accepted giving him the opportunity to see the inner workings of the Treasurer's Office.
In 2002, Douglas successfully ran for Governor of Vermont. He would be reelected as Governor 3 more times after that. In that first election he did not received the required 50% of the vote, although he did receive the majority of the vote, according to the Vermont State Constitution. The election was then decided by the Vermont State Legislature and Douglas was inaugurated on January 9th 2003. In all of the remaining elections that he won he received greater than 50% of the vote.
During his time as Governor Douglas signed a landmark civil rights bill banning discrimination on the basis of gender identity by employers, financial institutions, housing, public accommodations, and other contexts. He was the first Governor to meet with President Barrack Obama in the White House. It wasn't until his final term in office that he faced challenges. He vetoed a bill allowing same-sex marriage in Vermont, which was overridden by the Vermont Legislature in April of 2009. Just a few months later his veto was overridden again, this time for the Vermont State Budget.
In 2010, Douglas announced that he would not see re-election. That same year he was honored by the Province of Quebec, Canada when he became the first American political leader to be appointed to the National Order of Quebec. He was recognized for strengthening Vermont's historical bonds with Quebec and making improved relations with the province a priority of his governorship.
Since leaving office Douglas became the Executive in Residence at Middlebury College, authored a memoir, and in 2015 became the interim director of the Vermont Historical Society.
Douglas is a member of Union Lodge No. 2 in Middlebury, Vermont. He served as the Worshipful Master of Union Lodge from 1978 until 1979.