Thurgood Marshall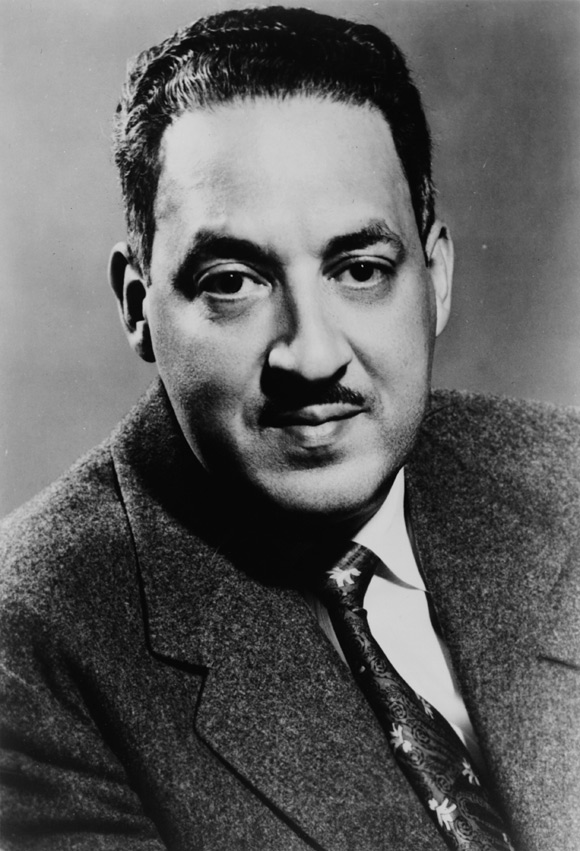 Born July 2, 1908 - Died January 24, 1993
Thurgood Marshall was an American jurist.
Marshall was born on July 2nd, 1908 in Baltimore, Maryland. His parents instilled him with an appreciation for the United States Constitution and the rule of law. He graduated from Frederick Douglass High School in Baltimore a year early in 1925, in the top third of his class. He went on to Lincoln University, a historically African-American school. There in his freshman year he opposed the integration of African-American professors at the school. He would be later described by at least one of his classmates as "rough and ready, loud and wrong." It has been widely mis-reported that Marshall intended to go to school to be a dentist. His application to Lincoln University clearly states that he intended to study law. Despite in his early years at Lincoln being a less than model student, he later began focusing on his studies and graduated cum laude with a Bachelor of Arts in Humanities, with a major in American literature and philosophy. Marshall wanted to go on to study law at the University of Maryland School of Law. He did not apply though due to the schools segregation policy. He instead when to Howard University School of Law in Washington, D.C. a historically African-American law school and the oldest in the country. He graduated in 1933.
After graduation Marshall opened a law practice in Baltimore. In 1934 he began his 25 year relationship with the National Association for the Advancement of Colored People (NAACP). His first major case that he handled in1936 was to argue that the University of Maryland Law School, the very school he had wanted to attend, violated the "separate but equal" doctrine of Plessy v. Ferguson. He successfully showed the the state did not provide a separate but equal school for his client to attend and therefore must be admitted to the school. Marshall won his case when he argued it before the United States Supreme Court.
In 1940, Marshall was a founder of NAACP Legal Defense and Education Fund. As the head of the fund he argued many civil rights cases before the Supreme Court. Most notably was the 1950 case of McLaurin v. Oklahoma State Regents. In the case McLaurin was a student who had already received his Masters degree in education. He wanted to go to a Doctorate in Education at the University of Oklahoma. Marshall argued that the state did not provide proper segregated facilities as was required by Oklahoma law at the time. McLaurin v. Oklahoma State Regents became part of the Brown v. Board of Education case which Marshall was the attorney for as well. In Brown v. Board of Education he argued that public education could not be separate but equal because it could never be equal.
During the 1950's Marshall established a friendly relationship with the director of the FBI, J. Edgar Hoover.
In 1961, Marshall was appointed to the United States Court of Appeals for the Second Circuit by President John F. Kennedy. In 1965, President Lyndon B. Johnson appointed him to be the United States Solicitor General, up to that point, the highest position held by an African-American in Government.
In 1967, Marshall was again appointed by Lyndon B. Johnson to the United States Supreme Court. Of the appointment President Johnson said it was "the right thing to do, the right time to do it, the right man and the right place." Marshall was the 96th person appointed to the position and the first African-American. Marshall summed up his legal philosophy as saying "You do what you think is right and let the law catch up." This gave fuel to Marshall's critics who said he was a judicial activist. Marshall sat on the Supreme Court until 1991when poor health caused him to step down. Marshall was reportedly unhappy that President George H. W. Bush got to appoint his replacement. Marshall's replacement was Clarence Thomas.
In 1987, Marshall notably started a speech about the bicentennial of the Constitution by saying:
The government they devised was defective from the start, requiring several amendments, a civil war, and major social transformations to attain the system of constitutional government and its respect for the freedoms and individual rights, we hold as fundamental today.
He concluded the same speech by saying:
Some may more quietly commemorate the suffering, struggle, and sacrifice that has triumphed over much of what was wrong with the original document, and observe the anniversary with hopes not realized and promises not fulfilled. I plan to celebrate the bicentennial of the Constitution as a living document, including the Bill of Rights and the other amendments protecting individual freedoms and human rights.
Marshall passed away on January 24th, 1993.
Marshall was a member of Coal Creek Lodge No. 88 of the Most Worshipful Prince Hall Grand Lodge of Oklahoma.