Charles Francis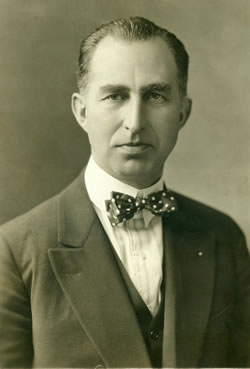 Born October 18, 1876 - Died October 2, 1947
Charles Francis Admas is an American businessman and sports promoter.
Adams graduated from Jenney Business College in Enosburgh Vermont. After graduation he moved to Springfield, Vermont where he worked for his Uncle in the Grocery industry. Adams also worked for the New England Maple Syrup company and Fitzgerald, Hubbard and Company a banking and brokerage firm. Eventually he would go to work for the John T. Connor Company which would become the First National grocery store chain.
Adams was an avid amateur hockey fan and would travel often to Montreal to see professional hockey. After a scandal involving amateur players in the Boston area Adams decided to try to bring professional hockey to the United States. For $15,000 Adams bought the Bruins franchise on November 1, 1924. In 1926 Adams would buy the entire Western Canada Hockey League. Adams guaranteed $500,000 to build the Boston Gardens so the Bruins would have a proper place to play. Under his leadership the Bruins won the 1929 Stanley Cup.
In 1927 Adams became a minority owner of the Braves and the teams vice president. By 1935 the team was in trouble, Adams demanded that the team president, Emil Fuchs either step down or buy out Adams shares. In November of the 1935 the National League took over the team due to the Braves failure to fulfill their contractual obligations.
Adams was elected to the Hockey Hall of Fame in 1960. In 1974 the NHL formed the Adams Division which was the forerunner to the NHL's Northeast Division.