Sigurd Anderson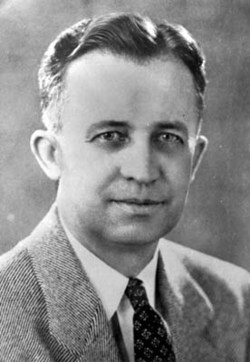 Born January 22, 1904 - Died December 21, 1990
Sigurd Anderson was an American politician.
Anderson was born in Arendal, a rural community in the county of Aust-Agder in Norway on January 22nd, 1904. His family moved to the United States when he was three years old. He became a citizen at the age of eight, when his father became a naturalized citizen. He graduated from the Canton Lutheran Normal School in Canton, South Dakota. Afterwards he enrolled in South Dakota State College. In his first year he contracted Scarlet Fever and was unable to return the following fall. To earn money to return to college, he taught in rural schools and worked as a farm hand. When he returned to college he enrolled in the University of South Dakota where he graduated in 1931. He then enrolled and got a degree from the University of South Dakota School of Law. After graduating from law school he began practicing law in Webster, Day County, South Dakota.
Anderson twice served as the Day County state's attorney. He also served as an assistant attorney general in Pierre, the capital of South Dakota. In 1947, he was elected as the South Dakota Attorney General. He served two terms as Attorney General from 1947 to 1951.
In 1951, Anderson was elected the 19th Governor of South Dakota. He served two terms as Governor. On his re-election in 1952, he received more than 200,000 votes in the general election. This was the first time a candidate received so many votes in South Dakota History. It was a feat not repeated until 2006, more than 50 years later. Notably in his term, the state of South Dakota was debt free, this was the first time in forty years a state made the claim.
In 1964, Anderson ran again for Governor. He lost in the Republican primary. His Republican rival who won the nomination of the party, also won the general election. Anderson was appointed by him to be a circuit court judge. Anderson retired from the position in 1975.
Anderson passed away on December 21st, 1990.
Anderson was a member of Coteau Lodge No. 54 in Webster, South Dakota.