Stephen Davison Bechtel, Sr.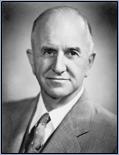 <em><b>Born</b> September 24, 1900 - <b>Died</b> March 14, 1989</em>
Stephen Davison Bechtel, Sr. was an American businessman.
Bechtel was born on September 24th, 1900. He spent most of youth being raised in construction camps as his father traveled around for the family business. As a teenager, he joined construction gangs and worked for his father's company. He graduated from high school and then enlisted in the Army during World War I. He went to France, where they assigned him to the 20th Engineers where he worked as a motorcycle messenger.
When Bechtel returned to the United States he attended the University of California at Berkley. He dropped out his junior year to join the family company.
In 1933, Bechtel's father passed away suddenly. At the time, the company was actively participating in the construction of the Hoover Dam. Bechtel was on the executive committee which consisted of the 6 companies involved in the construction.
Over the next 30 years Bechtel ran the family company. The Hoover Dam project became the first of many projects which Bechtel took on. Many around him complimented him on his leadership style which many called relaxed. He moved the company into engineering and eventually took the company international.
In 1954, Bechtel was awarded an honorary agricultural degree from the University of California at Berkley. In 1980 the school completed the Bechtel Engineering Center which was named for him.
Bechtel passed away on March 14th, 1989.
Bechtel was a member of Oakland Lodge No. 188, Oakland, California.